Cocoa Brownie Recipe with Ganache
This moist brownie recipe is served with delicious rich ganache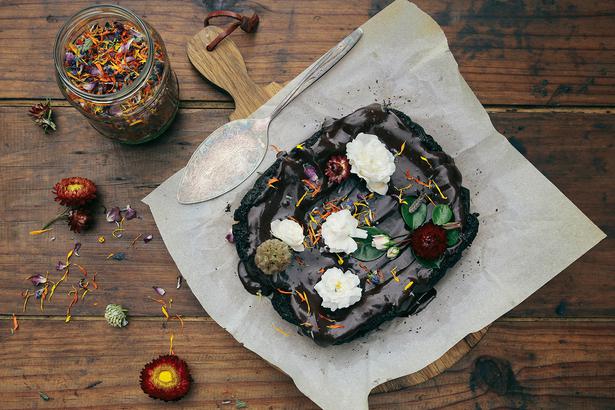 Thursday Dec. 17, 2015
I have been craving a certain type of brownie lately, soft and rich with an earthy cocoa flavour. When baked in a square tin, you will find a few fudgy slices in the center for those who love their brownies gooey, and slices around the edge a little more crispy yet still moist. They keep really well for up to a week.
Makes 9 generous brownies
COCOA BROWNIE RECIPE WITH GANACHE
For the brownies:
150g unsalted butter, melted
1 cup coconut or rapadura sugar
3/4 cup good quality dark cocoa powder
1 teaspoon pure vanilla extract
3 free range eggs, lightly beaten
1/2 cup flour of your choice (I used oat flour)
a pinch of sea salt
1 cup walnuts, almond or nuts of your choice
For the ganache:
150g good quality dark chocolate, roughly chopped
1 cup cream or coconut cream
1. Pre-heat the oven to 160 C, and line a square slice tin with baking paper.
2. Add all ingredients in a large mixing bowl except for the walnuts, and mix until well incorporated. The mix will be quite sticky, don't worry!
3. Stir in the nuts if using.
4. Spread the brownie batter evenly in the prepared lined slice tin.
5. Bake in the oven for 18-20 minutes, or until firm around the edges, and still slightly soft in the middle.
6. Remove from the oven, and allow to cool completely.
7. To make the ganache, gently heat the cream in a saucepan until almost boiling. Remove from the heat, and stir in the chocolate. Continue to stir until the chocolate has completely melted and the ganache is thick and glossy.
8. Leave the ganache to cool slightly, then spread on top of the brownies. Decorate with edible flowers if using.
• For more from Eleanor Ozich see petite-kitchen.com 
Share this: