Coconut Banana Bread with Mango and Lychees
This bread can be made up to two days in advance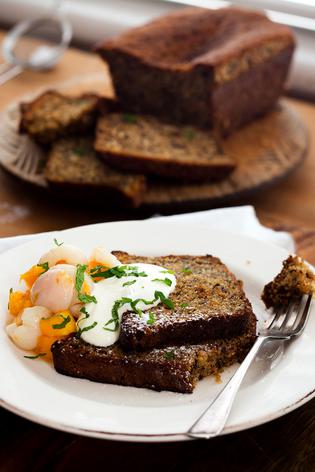 COCONUT BANANA BREAD WITH MANGO AND LYCHEES
Serves 4
1 cup caster sugar
8 Tbs butter, softened
3 eggs
3 ripe bananas
1 Tbsp milk
1 tsp cinnamon
½ cup shredded coconut
1½ cups plain flour
1 tsp salt
1 tsp baking powder
1 tsp baking soda
1 ripe mango
16 fresh lychees or longans
¼ cup apple juice
½ tsp vanilla extract
Icing sugar
Yoghurt
Mint
(Note: this bread can be made up to two days in advance.)
1. Preheat oven to 180C. Grease a loaf tin.
2. Cream the sugar and butter together until pale. Add the eggs one at a time, mixing well. Mash the bananas and stir in.
3. Whisk the milk and cinnamon with a fork and add. Stir in the coconut.
4. Sift the dry ingredients together and fold in until just mixed. Spoon into the tin and bake for approximately 1 hour and 10 minutes, checking with a skewer if unsure.
5. Dice the mango. Peel the lychees and halve. Pour over the apple juice and vanilla then leave while grilling the bread. Slice and grill until golden, then serve with the fruit spooned over, sifted icing sugar, mint leaves and a dollop of yoghurt.
Share this:
More Food & Drink / Recipes