Coconut Cake Recipe with Tangy Yoghurt
Try this delicious coconut cake recipe by Eleanor Ozich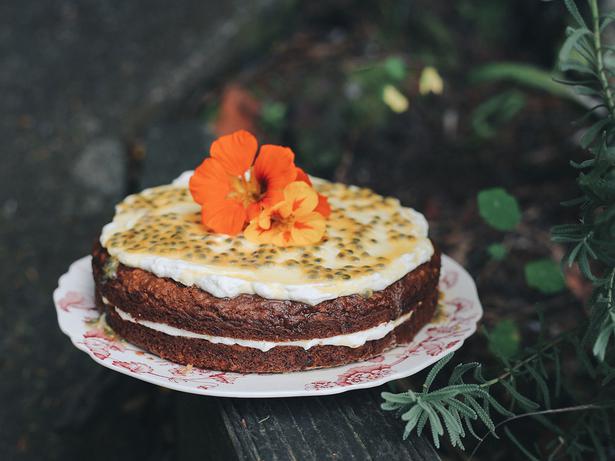 Thursday Oct. 8, 2015
I love the subtle scent of lemon in this textured coconut cake recipe with passionfruit. The layers are sandwiched together with a combination of whipped cream and thick tangy natural yoghurt. Spectacular to look at, and even better to eat!
COCONUT CAKE RECIPE WITH TANGY YOGHURT
Serves 8 
¾ cup unsalted butter, softened
1 cup rapadura or coconut sugar, plus a little extra
2 free range eggs
½ cup milk or coconut milk
1½ cups spelt or buckwheat flour
1 cup shredded coconut
Zest of two lemons
1 tsp vanilla extract
1 teaspoon baking soda
A pinch of sea salt
For decorating
1 cup cream
1 Tbsp honey
1 cup natural yoghurt
Flesh of two passionfruit
Fresh flowers if using
1. Preheat the oven to 160 C and grease or line a cake tin with baking paper.
2. Beat the butter and coconut sugar using an egg beater until creamy, about 5 minutes. Beat in one egg at a time, and then gradually drizzle in the milk.
3. Sift in the flour, then add the remaining ingredients. Carefully fold in to the wet mixture, be careful not to over mix. 
4. Transfer the batter in to the prepared cake tin, and then bake in the oven for 40 minutes, or until a skewer comes out clean when inserted in to the center.
5. Leave to cool for a few minutes in the tin, and then carefully turn out on to a wire rack.
6. Once cooled completely, carefully slice the cake in half using a good bread knife.
7. To make the filling, whip the cream and honey together using an egg beater, and then gently fold in the yoghurt. 
8. Spread half of the filling on the first layer of cake, then gently place the remaining layer on top. Spread the remaining cream mixture on top, and then top with the passionfruit pulp and flowers if using. Best enjoyed on the day of making if topped with the cream.
For more from Eleanor Ozich see petite-kitchen.com 
Share this:
More Food & Drink / Recipes