Coconut Milk Soup Recipe With Lobster
This delicious soup makes the rich flavour of lobster go a long way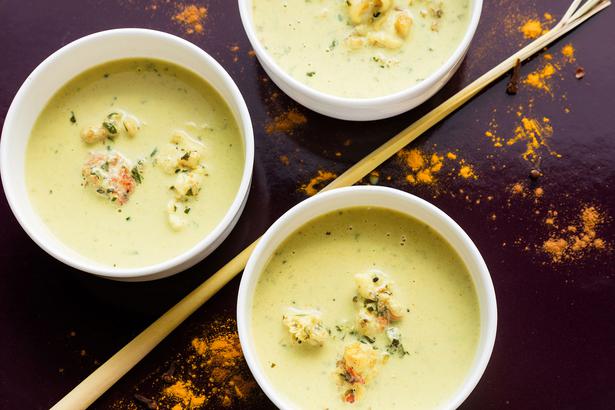 Monday July 18, 2016
If there's a way to savour a lobster roll, I have yet to discover it. Two or three bites and it's gone. In looking for a simple, better way to linger over the succulent meat a little longer, I found this coconut milk soup recipe with lobster in a cookbook with some miles on it - The New American Chef: Cooking With the Best of Flavors and Techniques From Around the World by Andrew Dornenburg and Karen Page (Wiley, 2003).
The soup has several things going for it, not the least of which is a reminder that even small amounts of well-chosen spices can yield big, aromatic flavour. Here, a combination unfamiliar to me - toasted ground cloves, toasted poppy seeds, cinnamon, turmeric - marries with ginger root, lemon grass, coriander and shallot. After a few minutes of heat, they are ready to season a cost-conscious amount of fresh lobster tail meat, then infuse a mixture of coconut milk and half-and-half.
True, the soup is decadent, as lobster-laden dishes typically are, but you don't need a huge helping. It works warm or chilled. I could see adding a scoop of basmati rice or blanched and sliced sugar snap peas or leftover grilled corn to stretch the number of servings - and prolong the time it takes to reach the bottom of the bowl.
COCONUT MILK SOUP RECIPE WITH LOBSTER
3 or 4 servings 
Serve warm or chilled, with toasted naan.
Ingredients
1/2 teaspoon poppy seeds
1/4 teaspoon ground cloves
2 tablespoons olive oil
1 medium or 1/2 large shallot
Leaves from 4 to 6 stems coriander
One two-inch piece fresh ginger root
1 lemon grass stalk
1/4 teaspoon ground cinnamon
1/4 teaspoon ground turmeric
About 350g fresh lobster meat (from 2 good-size lobster tails)
One 400ml can coconut milk
1 cup half-and-half
Flaked or coarse sea salt, for serving
1. Toast the poppy seeds in a non-stick saute pan over medium heat for a few minutes, just until fragrant and lightly browned. Transfer to a small plate to cool. Add the ground cloves to the same pan; toast for a minute or two, just until fragrant. Add to the small plate.
2. Add the oil to the same saute pan (over medium heat). Mince the shallot (to yield 2 tablespoons). Once the oil shimmers, stir in the shallot; cook for about 3 minutes, stirring occasionally.
3. Meanwhile, finely chop the coriander. Peel the ginger, then mince the peeled root (to yield 1 tablespoon). Use the flat side of a chef's knife to smash the lemon grass and discard its tough outer layers. Cut the stalk in half.
4. Add the coriander (to taste), ginger, lemon grass, poppy seeds, cloves, cinnamon and turmeric to the saute pan, stirring to combine. Cook for about 5 minutes, reducing the heat to medium-low as needed to keep the mixture from scorching.
5. While the mixture is cooking, remove the lobster tails from their shells; discard the shells or reserve for stock. Cut the lobster meat into large chunks, then add them to the saute pan. Cook for about 2 minutes or until almost or partially opaque.
6. Stir in the coconut milk; increase the heat to medium (if needed) and cook for about 5 minutes, stirring a few times.
Stir in the half-and-half; briefly increase the heat to medium-high; as soon as bubbles form at the edges, reduce the heat to medium-low. Cook for about 12 minutes, stirring occasionally. Discard the lemon grass.
7. Ladle into individual bowls; sprinkle each portion lightly with the salt. Serve hot.
— The Washington Post
Share this:
More Food & Drink / Recipes