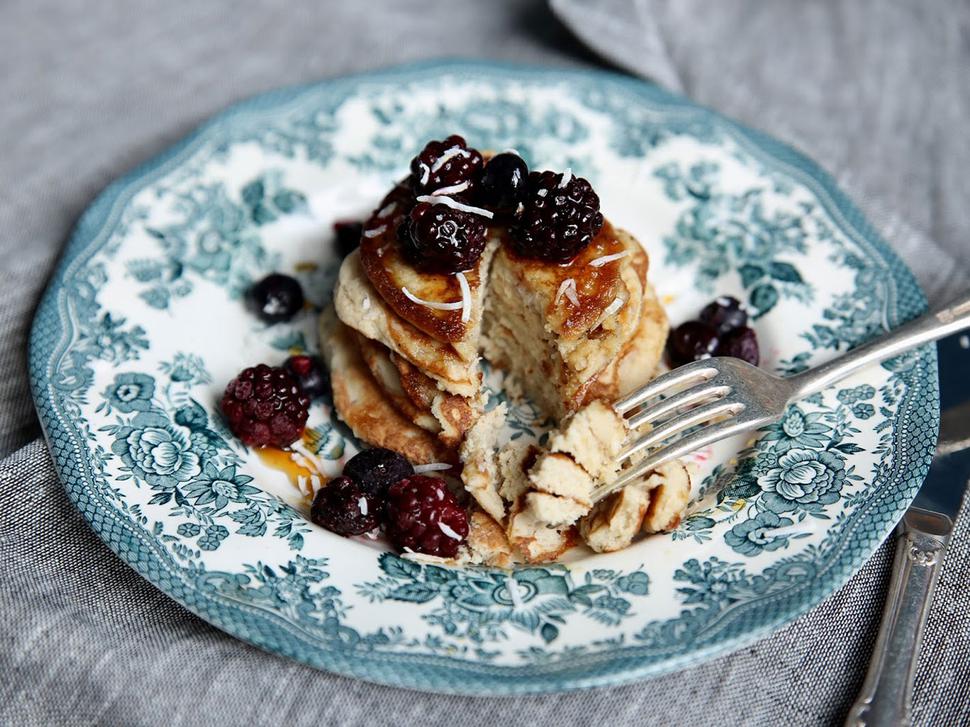 Coconut Pancakes Recipe
Topped with maple syrup and berries, these pancakes by Eleanor Ozich are perfect for brunch at home
Wednesday Sept. 30, 2015
These simple, light and coco-nutty hot cakes make for a spectacular spring breakfast. Top them how you please, I love the simplicity of plump juicy berries and a little drizzle of pure maple syrup, although a dollop of cream or two wouldn't go a miss.
You may find this is one of those recipes that makes almost a weekly appearance in your kitchen throughout the summer.
COCONUT FLOUR HOT CAKES WITH MAPLE & BERRIES
Makes 10-12 small pancakes
• ½ cup coconut flour* see note below
• 4 free range eggs
• 1 tsp vanilla extract
• 1 cup coconut milk or natural yoghurt
• 2 Tbsp honey, maple or agave syrup
• ½ tsp baking soda
• 1 Tbsp apple cider vinegar
• ½ tsp cinnamon
• a pinch of sea salt
• butter or coconut oil for greasing the skillet
* I have also made these using ground spelt and buckwheat flour, just use 2 cups of flour in place of the 1/2 cup of coconut flour. 

1. In a food processor or blender, add all of the ingredients, then process until smooth. Leave to sit for 5 minutes (as the coconut flour is full of fibre, it will absorb all of the moisture creating a thick smooth batter).
2. Heat a greased skillet on low. Spoon 3-4 tablespoons of batter onto the skillet, and cook for 1-2 minutes on each side until golden brown. I find it best to keep them quite small, this makes them easier to work with.
3. Repeat with the remaining batter until cooked.

• For more from Eleanor Ozich see petite-kitchen.com 
Share this:
More Food & Drink / Recipes