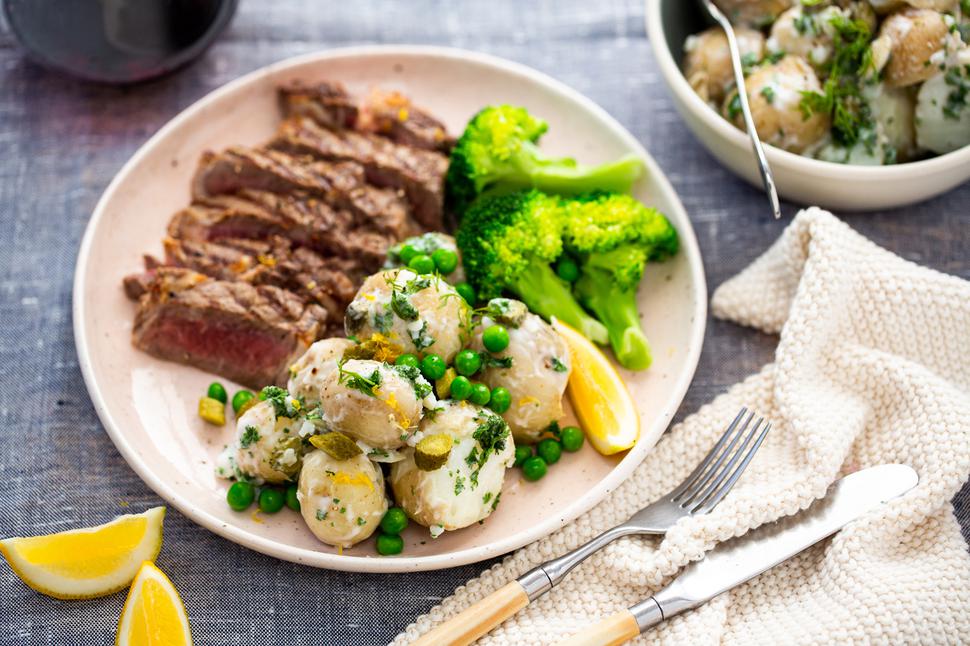 Coconut Yoghurt Potatoes & Pan-Fried Steak
Add fresh flavour to an old classic
Sunday July 5, 2020
Bring a fresh flavour to your potatoes with this coconut yoghurt. Not only is it great on warm potatoes, but goes well drizzled over roast vegetables or mixed with finely diced cucumber to make a raita to go alongside a curry.
COCONUT POTATOES AND PAN-FRIED STEAK
Serves 4
500g new potatoes
¾ cup coconut yoghurt
½ Tbsp oil
¼ cup chopped gherkins
1 tsp lemon zest
2 Tbsp each, chopped dill and chives
Salt and freshly ground pepper
1 Tbsp oil or butter
4 x 150g beef steaks
Greens to serve
1. Boil the potatoes in salted water until tender. While warm, squash a little with a fork just to break the skins.
2. For the dressing, combine the yoghurt, oil, gherkins, zest, herbs, salt and pepper. Pour over the slightly warm potatoes and combine.
3. To cook the steak, heat the oil or butter in a frying pan to a medium heat. Depending on the thickness of the steak cook for 4-5 minutes each side. Allow to rest for a few minutes before slicing and placing on the plates. Drizzle over any pan juices. Serve with your favourite green or a salad.
Share this:
More Food & Drink / Recipes