Coffee Tart Recipe with Oat and Hazelnut Crust
Try this velvety coffee tart recipe from Petite Kitchen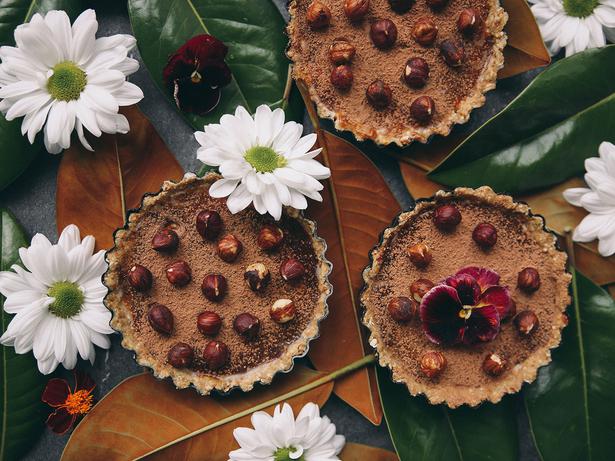 Thursday July 28, 2016
I am rather fond of coffee, particularly in a small, sweet tart. It's velvety coffee filling is enrobed in a honey coloured hazelnut crust. I toast the nuts beforehand in a dry cast iron skillet, filling the kitchen with a deep, warm aroma. This is a lovely rich dessert, perfect to enjoy in the depths of winter.

COFFEE TART RECIPE WITH OAT AND HAZELNUT CRUST
Makes 4 individual sized tarts, or 1 large tart.
For the crust:
1 cup hazelnuts
½ cup rolled oats
3 Tbsp coconut oil, melted
3/4 cup Medjool dates, pitted
Pinch of sea salt
For the filling:
1 cup cashews, soaked for at least 2 hours then drained well
1 cup coconut cream
2 Tbsp pure maple syrup
2 Tbsp good quality cocoa
½ cup coconut oil, melted
2 shots of espresso*
2 Tbsp pure vanilla extract
For topping:
Good quality cocoa for dusting
½ cup hazelnuts, toasted
Edible flowers (optional)
1. To make the crust, pulse the hazelnuts in a food processor until roughly chopped. Add the remaining ingredients, and continue to pulse until the mixture begins to come together.
2. Divide the mixture between 4 greased tart tins, or one large tart tin. Press the mixture evenly into the tins to create a tart shell.
3. Place the tart tins in the freezer to firm up while you make the filling.
4. Place all filling ingredients into a blender or food processor, then blend until smooth. Taste for sweetness, and add more maple if desired.
5. Pour the filling into the tart shells, and spread out evenly. Dust with cocoa, and then decorate with the toasted hazelnuts.
6. Place the tarts in the freezer to set for at least two hours.
7. To serve, remove from the freezer, and allow to soften for 10-15 minutes.
*If you do not have an espresso machine, you could use 1-2 tbsp instant coffee depending on how strong you like the flavour.
• For more from Eleanor Ozich see petite-kitchen.com 
Share this:
More Food & Drink / Recipes