Cazador's First Cookbook: Cazador - Game, Offal & the Rest
Co-owners Rebecca Smidt and Dariush Lolaiy Release Cazador's First Cookbook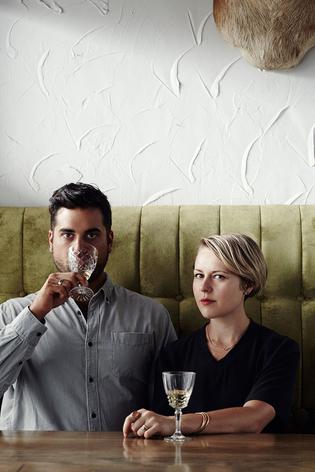 Much like the beautiful and interesting food that comes out of its kitchen, Cazador's first cookbook is a work of art.
The co-owners of the specialist wild food restaurant Rebecca Smidt and Dariush Lolaiy, are releasing just 1000 copies of Cazador — Game, Offal & the Rest, which coincides with the iconic Dominion Rd restaurant's 30th birthday.
Featuring considered, simple — sometimes graphic — photography by Auckland-born, New York-based photographer Pippa Drummond, the exquisite hand-numbered books have a linen cover, are printed on high-quality paper, and have exposed binding.
"We've worked hard to create a beautiful object and although it's about food, we hope it appeals to those with an interest in photography and design, and the finer things in life," Rebecca says.
Some of the featured recipes for game birds and meats, vegetables and desserts, are from the closely guarded files of Dariush's parents Tony and Barbara, who established the restaurant in 1987; the rest are his own. All are achievable for the home cook, though Rebecca says you'll need time to experiment and a "willingness to get your hands dirty".
Dariush says the book is more than just a how-to, reflecting Cazador's individualism, independence and its long-running legacy. "It's recipes, it's a cookbook and it's a memento of a special time and place."
• Cazador — Game, Offal & the Rest ($68) is available now. Pick up a copy at the restaurant, at like-minded retailers or at cazador.co.nz
Share this: