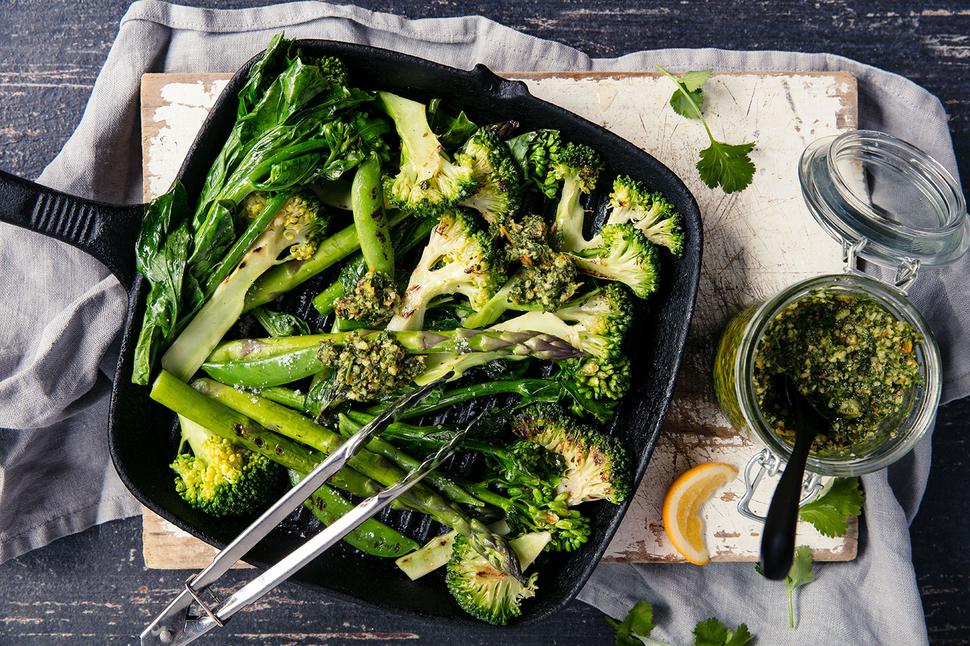 Coriander & Tamari Pesto With Chargrilled Greens
All it takes is two simple steps to create this delicious coriander and tamari pesto
Friday Oct. 26, 2018
A handy fave is this delicious coriander and tamari pesto recipe. Are you like me and known to buy a huge bag of coriander, only to eat half? This is the perfect way to use the remainder. Not only is it delightful over an array of chargrilled greens, but it's also delicious on crackers, folded through pasta or in a wrap.
CORIANDER & TAMARI PESTO WITH CHARGRILLED GREENS RECIPE
Serves 4-6
Pesto
2 cups roughly chopped coriander
2 cloves garlic
2 tsp lemon zest
2 Tbsp lemon juice
½ cup tamari whole almonds
2 tsp chopped red chilli
½ cup olive oil
Salt and freshly ground pepper to taste
Vegetables
1 Tbsp olive oil
2 tsp sesame oil
1 head broccoli
100g snap peas
Bunch kailaan, ends trimmed (or bok choy)
1 bunch asparagus
1. To make the pesto, into a food processor place coriander, garlic, lemon, almonds, chilli and olive oil. Blend until pesto-like. Season with salt and pepper.
2. For the vegetables heat a barbecue grill to a medium heat. Rub the vegetables with oil and chargrill until just cooked through and lightly browned.
Share this:
More Food & Drink / Recipes