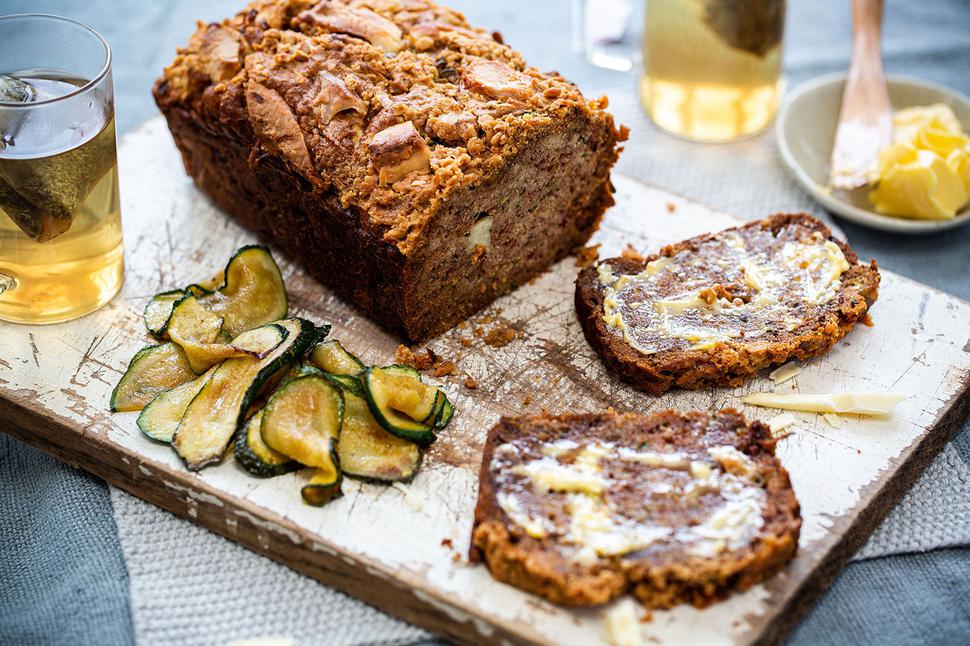 Courgette & White Chocolate Chunk Loaf Recipe
Eat this divine loaf warm to enjoy the soft melted chocolate
Sunday Nov. 15, 2020
When making this delicious loaf, stir in a little milk or water to soften the peanut butter. I also like to poke extra chocolate chunks on the top. Eat this loaf warm to really enjoy the soft melted chocolate, so gooey and delicious. If you leave it for a day or two, simply warm a slice in the microwave and spread a good dollop of butter on top.
COURGETTE AND WHITE CHOCOLATE CHUNK LOAF
Serves 10
1 courgette, grated
1 green apple, grated
½ cup melted butter
½ cup runny honey
½ cup soft peanut butter
2 eggs
1 tsp vanilla
1½ tsp baking soda dissolved in 1 Tbsp water
2 cups wholemeal flour
1 tsp cinnamon
100g white chocolate chunks
To serve — optional
1 courgette, sliced thinly
1 Tbsp butter
1 Tbsp honey
1. Preheat an oven to 170C. Line a 1 litre loaf tin with baking paper.
2. Place the courgette, apple, melted butter, honey, peanut butter, eggs, vanilla and soda into a large bowl and combine. Sift in the flour and cinnamon and add chocolate chunks stirring through, but do not over mix. Pour into the loaf tin and bake for 50 minutes or until a skewer comes out just clean.
3. To serve, either spread with butter, or fry the extra courgette in the butter and honey until caramelised and serve alongside your loaf.
Share this:
More Food & Drink / Recipes