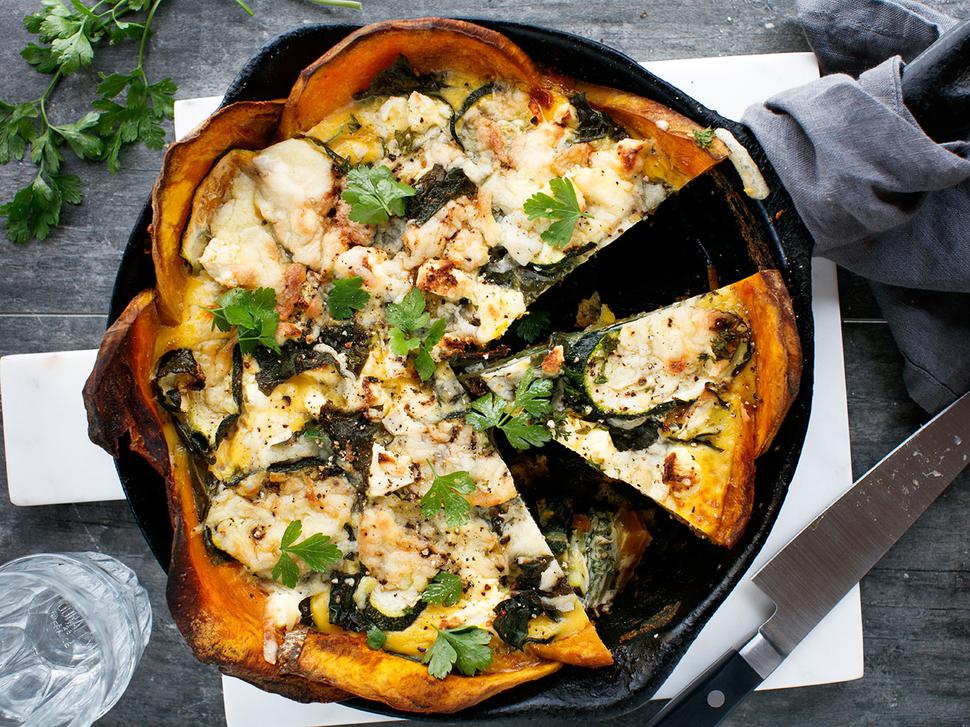 Courgette Frittata Recipe with Pumpkin Crust
This frittata makes for a tasty, low carb meal
Thursday Jan. 28, 2016
A traditional Italian frittata is cooked slowly on both sides. To create a similar version, line a pan with roasted pumpkin and fill with garlic flavoured courgettes, spinach and feta. Pour over the lightly whipped eggs, sprinkle with cheese and bake. This frittata makes for a tasty meal served warm or at room temperature with a side salad.

COURGETTE FRITTATA WITH PUMPKIN CRUST
Serves 6
• 400g peeled pumpkin, sliced thinly
• 3 Tbsps olive oil
• 3 medium courgettes, sliced thinly
• 2 cloves garlic, crushed
• 1 cup shredded spinach
• 100g feta, crumbled
• 5 eggs
• 1/8 tsp nutmeg
• ½ cup milk
• ½ tsp salt and freshly ground pepper
• 2 Tbsp chopped parsley
• ½ cup tasty cheese
1. Line a 20cm ovenproof frying pan or pie dish with baking paper. Preheat an oven to 180C.
2. Onto a flat baking dish place the pumpkin and drizzle with 2 tablespoons oil. Bake for 30 minutes until softened. Season with salt.
3. Place the courgette and crush garlic onto another tray drizzle with a little oil and bake for 10 minutes to soften.
4. Line the frying pan with the pumpkin leaving a little sticking up. Layer in the courgettes, sprinkling the feta and spinach as you go.
5. In a bowl whisk the eggs, nutmeg, milk, salt, pepper and parsley together. Pour over the courgettes, sprinkle with cheese then place into the oven for 40 minutes or until set.
Share this:
More Food & Drink / Recipes