Crayfish and Parmesan Spaghetti Recipe
Try this tasty crayfish spaghetti served with the salty, sharp flavour of parmesan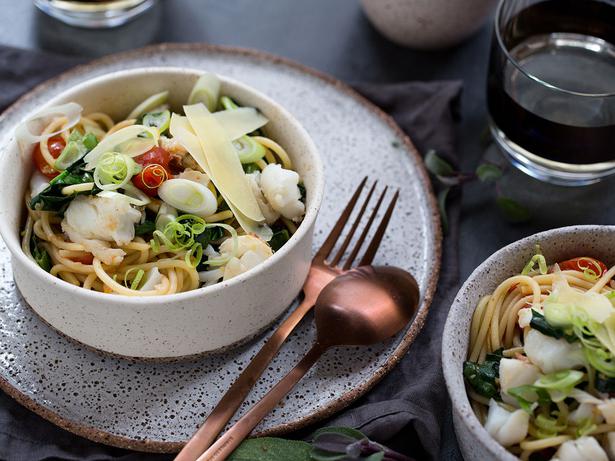 Friday April 28, 2017
Using the very freshest of ingredients, this crayfish spaghetti served with the salty, sharp flavour of parmesan, makes for a sophisticated yet super simple dish. If crayfish isn't available, large banana prawns make a great alternative. I love to serve this dish for friends as a relaxed lunch, with a glass or two of wine.
CRAYFISH AND PARMESAN SPAGHETTI RECIPE
Serves 4
350g spaghetti
2 Tbsp olive oil
4 cloves garlic, crushed
2 Tbsp freshly grated ginger
3 spring onions, sliced
200g cherry tomatoes
½ cup white wine
Zest of 1 lime
1/3 cup lime juice
Flesh from 1 raw crayfish, cut into chunks
½ cup cream
2 cups baby spinach leaves
½ cup grated parmesan
Salt and pepper to taste
¼ cup shaved parmesan to serve
1. Cook the spaghetti as per packet instructions.
2. In a large frying pan heat the oil. Add the garlic and ginger cooking for 2 minutes until fragrant. Add the spring onions, tomatoes, wine, lime and crayfish cooking for 3 or 4 minutes until the crayfish is just cooked. Add the cream and spinach heating through. Toss through the hot spaghetti, grated parmesan and season.
3. Serve hot, garnished with extra parmesan and freshly ground pepper.
Share this:
More Food & Drink / Recipes