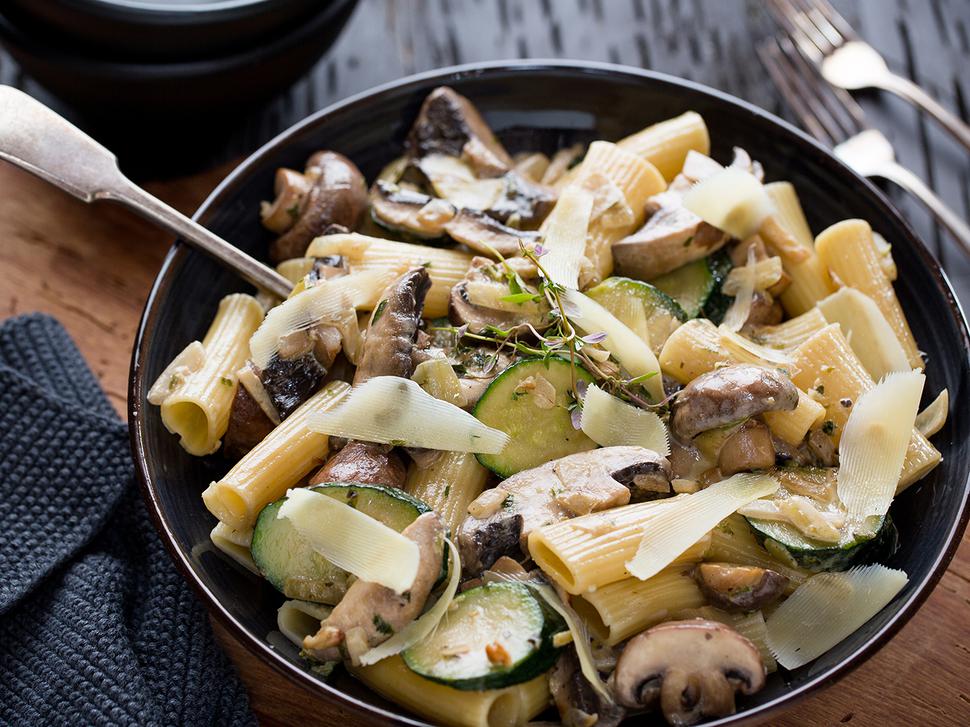 Creamy Mushroom and Thyme Pasta Recipe
Quick, easy, budget-friendly and bursting with flavour, this pasta recipe ticks all the boxes for a flat or family dinner
Friday Oct. 27, 2017
This creamy mushroom and thyme mix is perfect tossed through pasta of any kind. Thyme adds a herbaceous note that perfectly complements the mushrooms and garlic, while the parmesan and cream gives the dish a rich and deep flavour with a creamy finish. 
CREAMY MUSHROOM AND THYME PASTA
Serves 2
150g pasta tubes
2 Tbsp butter
1 onion, chopped
3 cloves garlic, sliced
4 field mushrooms, sliced thickly
1 courgette, sliced thinly
1 Tbsp chopped fresh thyme
½ cup cream
Salt and freshly ground pepper to taste
Parmesan to garnish
1. Cook the pasta in a pot of boiling salted water as per packet instructions.
2. Heat the butter in a frying pan. Add the onion and garlic cooking for 3 or 4 minutes to soften. Add the mushrooms and courgette and continue to cook until the mushrooms are soft.
3. Pour in the cream, add the thyme and season generously with salt and pepper. Cook for 4 minutes until the cream boils.
4. Serve on the hot pasta tubes with garnish of parmesan.
Share this:
More Food & Drink / Recipes