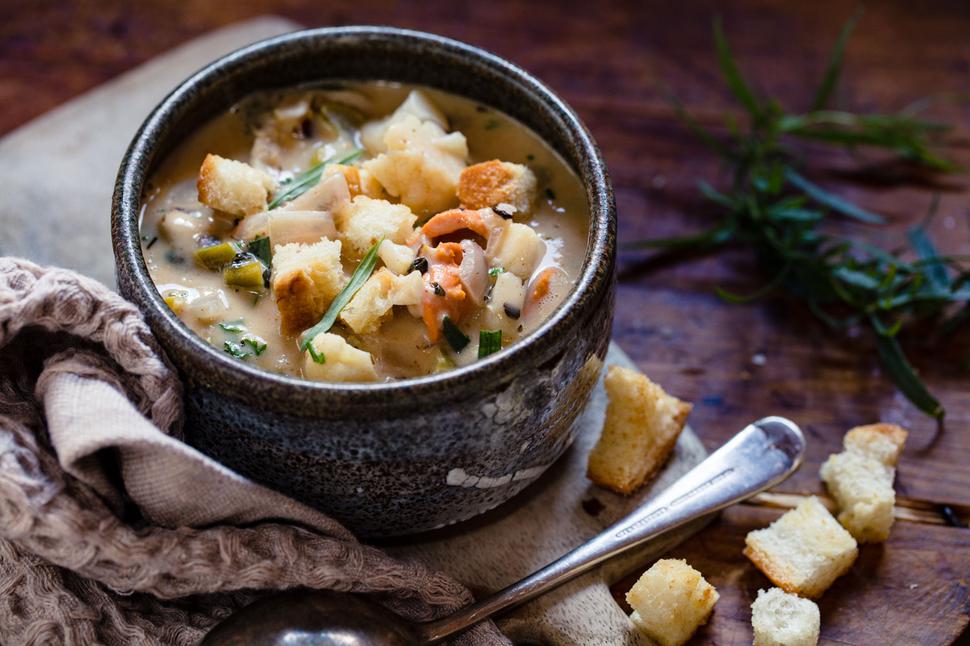 Creamy Mussel & Cauliflower Chowder With Crunchy Croutons
Sometimes all it takes to beat the cold is a classic bowl of chowder
Friday July 6, 2018
This luxurious mussel soup topped with homemade croutons is a real treat. It is definitely worth the effort of opening fresh mussels, which not only give you a delicious liquid from cooking for extra flavour, but also guaranteed freshness. One of my favourite herbs, tarragon, adds a unique flavour to this recipe.
CREAMY MUSSEL & CAULIFLOWER CHOWDER RECIPE
Serves 4
20 mussels in shell
20g butter
1 onion, chopped finely
2 cloves garlic, sliced
1 stick celery, sliced thinly
½ leek, chopped small
2 Tbsp flour
½ cup white wine
2 cups milk
1 cup mussel liquid
1 cup cream
1 cup cauliflower florets
¼ cup chopped tarragon
Salt and freshly ground pepper to season
¼ cup chopped parsley
Serve with homemade croutons
1. In a large pot bring ½ cup water to a simmer with the lid on. Add the mussels, cover and steam until just cooked. Drain, reserving 1 cup of the liquid. Remove the meat from the shells and discard the shells. Cut the meat into chunks.
2. In the same pot, melt the butter. Sweat the onion, garlic, leek and celery for 5 minutes, but don't brown. Stir in the flour and cook for 2 minutes. Pour in the wine, milk, mussel liquid, cream, cauliflower and tarragon and bring to a simmer.
3. Season with salt and pepper.
4. Just before serving add the mussel meat and parsley, heating through until hot.
5. Serve hot with homemade croutons.
Share this: