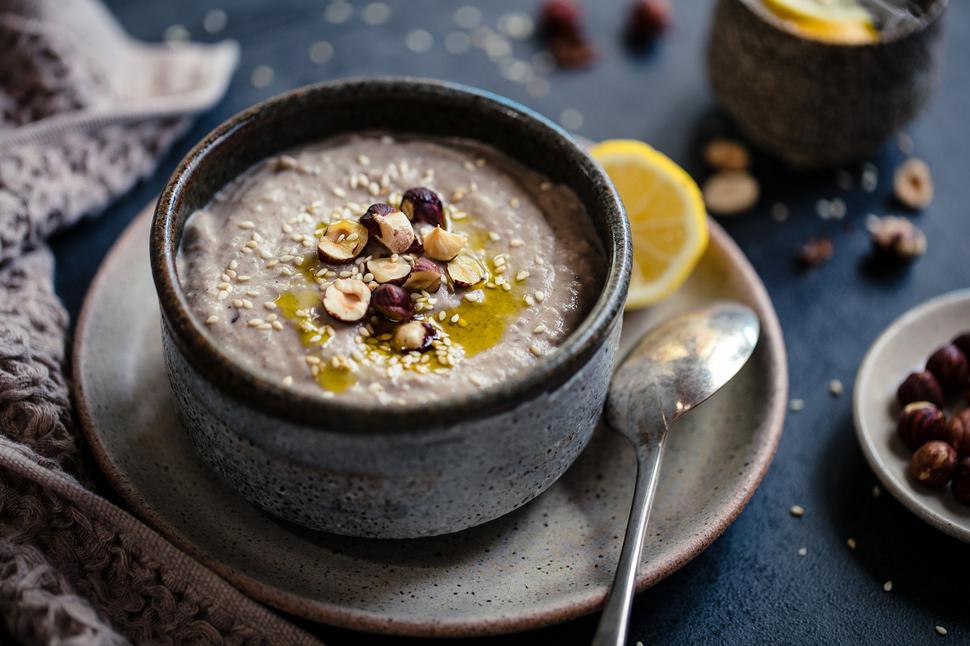 Creamy Vegan Eggplant & Hazelnut Soup
Craving something comforting? Sink into the warm flavours of this divine eggplant soup
Friday March 8, 2019
Try this smooth and creamy vegan eggplant and hazelnut soup recipe. You will be surprised by the unique texture of the eggplant. When it's all blitzed up the nutty hazelnut flavour emerges to help create this divine soup. Add a good squeeze of lemon and crunchy nuts on the top. If you're anything like me you will be back for seconds.
CREAMY VEGAN EGGPLANT & HAZELNUT SOUP RECIPE
Serves 4
Ingredients
½ cup hazelnuts
2 Tbsp sesame seeds
2 Tbsp olive oil
1 onion, finely chopped
1 clove garlic, crushed
1 large eggplant, cubed
750ml soy milk
1 tsp sumac
2 tsp za'atar
2 slices wholegrain bread
1 tsp lemon zest and juiced
2 Tbsp tahini
Drizzle of olive oil
Method
1. Preheat an oven to 170C. Place the hazelnuts and sesame seeds on a tray and roast for 6 minutes.
2. In a large pot, warm the oil. Add the onion, softening for 2 minutes. Add the eggplant and garlic, cover and cook for 5 minutes. Stir and cook for another 2 minutes. Stir through half the hazelnuts and sesame. Pour over the soy milk and add the sumac and za'atar. Bring to a simmer for 10 minutes or until the aubergine has softened.
3. Toast the bread and add to the soup with the tahini and lemon zest. Blend until smooth.
4. Serve garnished with the remaining hazelnuts and sesame seeds. Squeeze over lemon juice and drizzle with olive oil.
Share this:
More Food & Drink / Recipes