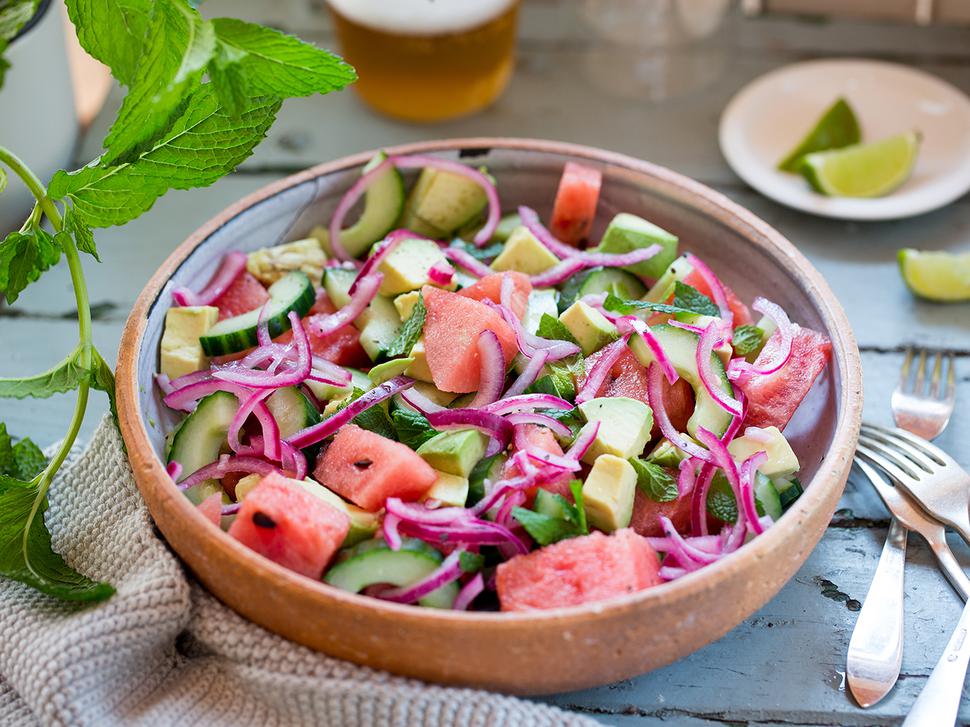 Crisp Watermelon Salad
A cooling, fresh and fruity salad for a hot, hot day
Friday Jan. 19, 2018
This watermelon salad is so cooling and fresh on a hot day. Use white wine vinegar if you don't have balsamic white. It will work to extract the juices from the red onion and create a dressing.
CRISP WATERMELON SALAD
Serves 4
½ red onion, sliced thinly
2 Tbsp white balsamic vinegar
2 tsp caster sugar
3 cups roughly chopped watermelon
½ telegraph cucumber, seeds removed and sliced
1 avocado, cut into cubes
1 cup mint leaves
2 limes (or 1 lemon)
1. Into a small bowl place the onion, vinegar and sugar. Stir well and leave to sit for 30 minutes letting the juices start to develop. Add the juice of ½ lime to make this into the dressing.
2. In a large bowl combine the watermelon, cucumber, avocado, mint and onion with the liquid.
3. Serve with an extra squeeze of lime juice.
Share this: