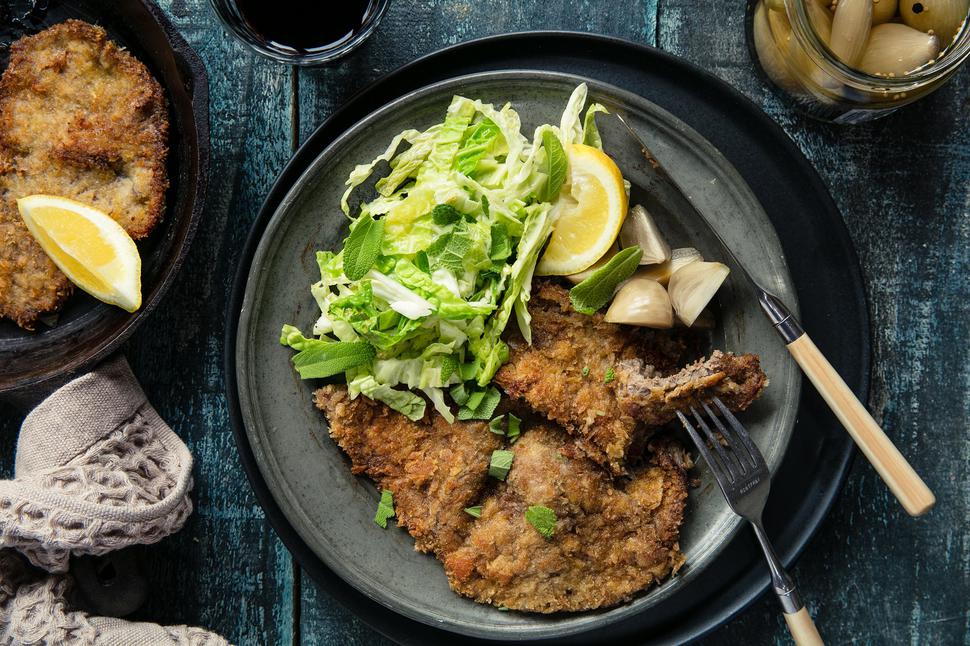 Crispy Beef Schnitzel With Parmesan & Herbs
Crispy schnitzel enjoyed with creamy mashed potato may just be the ultimate comfort food
Friday March 29, 2019
Okay, so it's not traditionally a German dish (it hails from across the border in Austria), but you will find schnitzel on the menu in most traditional restaurants. Here I have added parmesan and herbs to the crumb to make it extra-delicious. Cooking in butter is a must to get it nice and crispy. Serve the schnitzel with creamy mashed potato.
CRISPY BEEF SCHNITZEL WITH PARMESAN & HERBS RECIPE
Serves 4
Ingredients
1 cup breadcrumbs
½ cup grated parmesan
½ tsp dried herbs
4 pieces beef schnitzel
Flour to dust
1 egg, whisked and seasoned
2 Tbsp butter
1 Tbsp oil
½ cabbage, shredded
¼ cup shredded sage leaves
½ tsp salt
½ cup pickled onions
1 lemon, cut into wedges
Method
1. Combine the breadcrumbs, parmesan and herbs on a flat plate. Dust the schnitzel with flour, dip in egg, then finish with breadcrumbs. Cover and refrigerate until ready to cook.
2. Heat half the butter in a frying pan until frothing. Cook half the schnitzel for 2 minutes each side. Add a little extra butter if needed.
3. Cook the cabbage in the oil until just cooked, then add the sage leaves and salt.
4. Serve the schnitzel with cabbage, pickled onion, and a lemon wedge, and accompany with mashed potato.
Share this: