3 Delicious Crostini Recipes
Little rounds of toast topped with whatever you like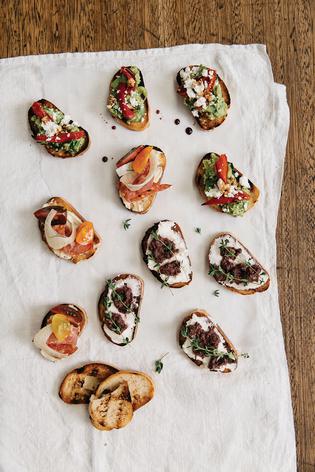 Crostini are the perfect blank canvas. Basically little rounds of toast, you can top them with whatever you like. Ripe tomatoes with basil and salt, or a smear of pesto or creamy ricotta, or a slice of your favourite cheese. You are only limited by your imagination and what you have in your pantry. To make crostini, cut a baguette, French stick, small ciabatta or similar bread into 1cm (0.4 in) slices. Drizzle with a little olive oil and either cook on a grill plate or bake in the oven until golden and crisp. They're also great plain, served with anything that requires dipping. Once cool, store in an airtight container. Top with your favourite ingredients prior to serving. Experiment with new flavour combinations, like these:
KALAMATA OLIVE TAPENADE WITH RICOTTA AND THYME
Make a tapenade by blitzing 175g of pitted kalamata olives with a small garlic clove, 2 anchovy fillets, 1 tsp capers, 2 tbsp olive oil, the juice and zest of ½ a lemon, and some freshly ground black pepper. Spread some fresh ricotta on to each crostino, top with a spoonful of tapenade, a drizzle of olive oil and some fresh thyme leaves.
BROAD BEAN, ROASTED CAPSICUM, FETA, BALSAMIC SYRUP
Cook frozen or fresh broad beans in boiling salted water until tender. Drain and pinch the skins off. Mash and combine with some finely chopped red onion, chopped fresh basil, mint, a little chili, lemon juice and some extra virgin olive oil until you have a chunky puree. Season with salt and pepper. Spoon on to each crostino, top with some roasted capsicum (bell pepper), crumbled feta and a drizzling of balsamic syrup.
STRACCHINO, SALAMI, TOMATO, FENNEL
Stracchino is a beautiful creamy Italian cheese. If you can't find it, use mascarpone instead. Spread each crostino with some stracchino cheese, top with thinly sliced salami, sliced fresh fennel, quartered cherry tomatoes, a drizzle of olive oil and a sprinkling of crushed fennel seed.

• Extracted with permission from Food for Sharing Italian Style by Liliana Battle, published by New Holland Publishers, $49.99. Available this month in all good bookstores.
Share this:
More Food & Drink / Recipes