Crown Range Cellar Manuka and Ginger Honey Bliss Balls Recipe
Try this recipe using manuka and ginger honey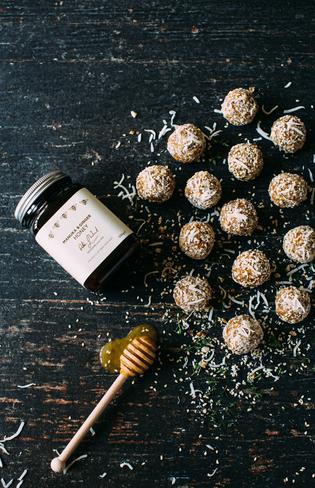 Crown Range Cellar Manuka and Ginger Honey Bliss Balls Recipe
Makes 15
½ cup dried figs, roughly chopped
½ cup New Zealand dried apricots, roughly chopped
½ cup raw (natural) almonds
½ cup almond meal
½ cup shredded coconut or coconut chips
¼ cup raisins
2 Tbsp Crown Range Cellar Manuka and Ginger Honey
1 Tbsp tahini
2-3 Tbsp toasted sesame seeds, coconut or finely chopped pistachio nuts for rolling
1. Place the figs, apricots, almonds, almond meal, coconut, raisins, honey and tahini in a food processor.
2. Process until a chunky paste forms. You want to leave some texture to the mixture. Roll into even-sized balls, then roll balls in the sesame seeds, coconut or pistachio nuts.
3. Store in an airtight container in the fridge.
Share this:
More Food & Drink / Recipes