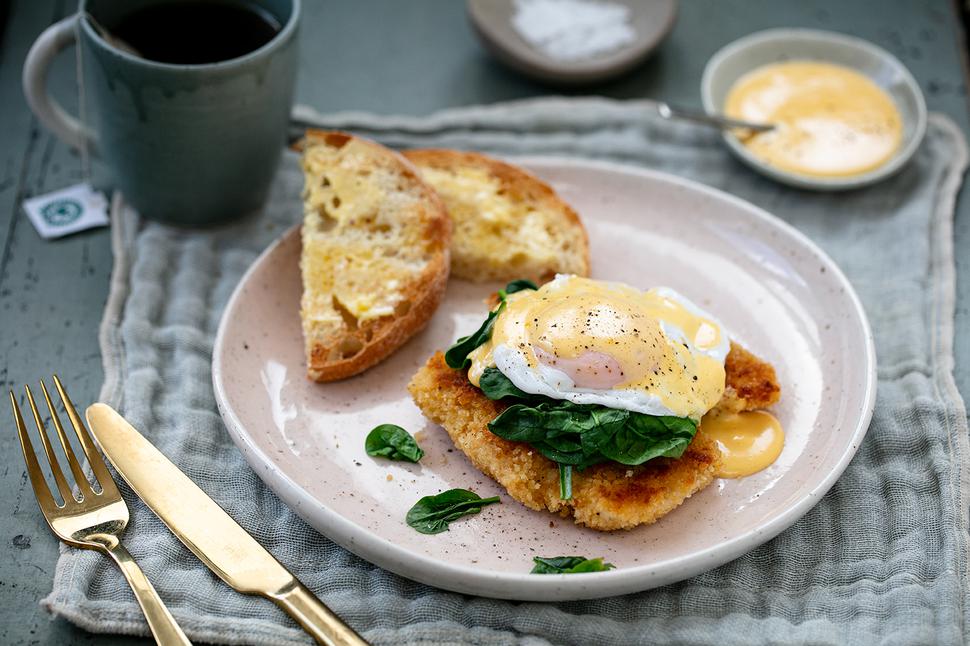 Start Your Day With Crumbed Fish, Poached Egg & A Creamy Bearnaise Sauce
This satisfying meal will make you a morning person
Sunday May 8, 2022
For best results with anything crumbed, place in the fridge for at least 30 minutes before cooking. This allows the crumbs to settle and stick well when cooked.

You can make the bearnaise using a stick blender, but heating over water does get a lighter result, although it takes a few more minutes. Add an extra egg if you're hungry.
CRUMBED FISH, EGG AND BEARNAISE RECIPE
Serves 2
200g fish fillets
Flour, to dust
1 egg, whisked, seasoned
1 cup breadcrumbs
2 eggs, to poach
2 cups spinach
2 Tbsp butter
Buttery toast, to serve
Bearnaise
2 egg yolks
½ tsp Dijon mustard
Pinch salt and pepper
200g butter
1 Tbsp tarragon vinegar or lemon juice
1. First, cut the fish into 3 or 4 pieces. Dust with flour, then dip in egg then breadcrumbs. Cover and refrigerate until ready to cook.
2. For the bearnaise, whisk the yolks, mustard, salt and pepper in a bowl over simmering water. Melt the butter to very hot in a microwave jug. Slowly drizzle the butter, a little at a time to start with, into the yolks while whisking. Lastly, add the vinegar or lemon juice. Remove from the heat. Do not overheat or it will curdle.
3. Poach the eggs, wilt the spinach for one minute in a microwave and fry the fish in the butter until cooked through.
4. Serve fish topped with spinach, eggs and a good spoon of bearnaise.
Share this: