Crumbed Mussels Recipe Stuffed with Coriander Pesto
Begin your evening by serving these decadent stuffed mussels with your pre-dinner drinks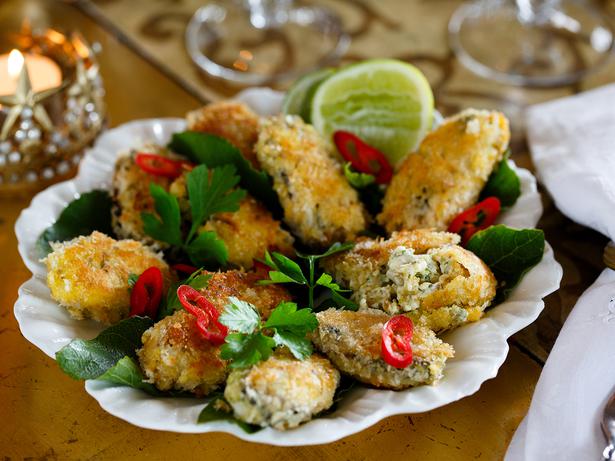 Wednesday Dec. 3, 2014
CRUMBED MUSSELS STUFFED WITH CORIANDER PESTO
20 fresh mussels
½ cup cream cheese
¼ cup coriander pesto
¼ cup flour, to dust
2 eggs, lightly whisked and seasoned with salt and pepper
2 cups panko crumbs
Oil for frying
1 lime, to squeeze
Optional: chilli sauce for dipping
1. Pour ½ a cup of water in a large saucepan and put the lid on. Bring to a boil then add the mussels and steam until opened. Remove from the liquid. When cool enough to handle, remove mussels from the shell.
2. Combine the cream cheese and pesto in a small bowl. Stuff each mussel with this mixture and press closed.
3. Dust them in flour, dip in egg then breadcrumbs. Place on baking paper in the fridge until ready to cook.
4. To shallow-fry, cover the base of a frying pan with oil. Add the mussels in batches, frying for 2 minutes each side until crispy.
5. Serve hot with a squeeze of lime and chilli sauce if wanted.
Share this:
More Food & Drink / Recipes