Crumbed Snapper Burger with Tartare Sauce Recipe
Try this delicious version of a Filet-O-Fish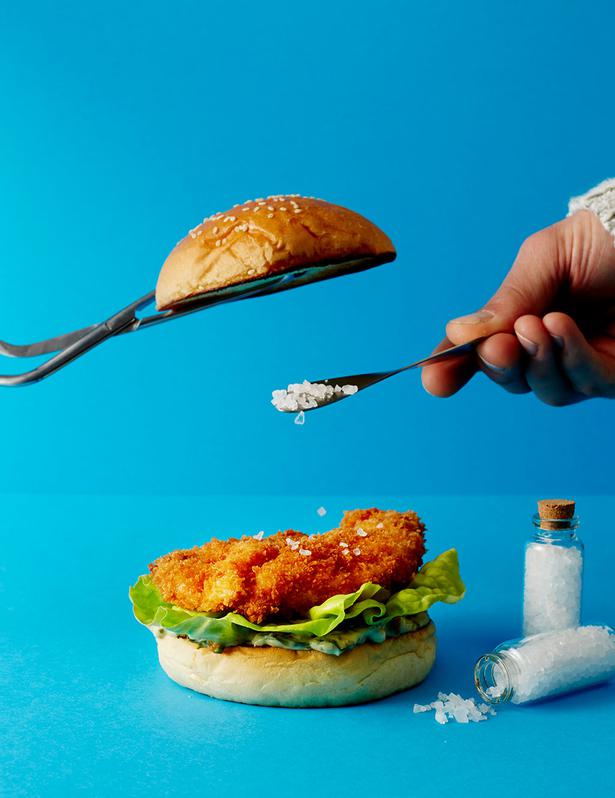 Monday Sept. 14, 2015
This is a version of the Filet-O-Fish from Daniel Wilson's cookbook, The Huxtaburger Book, made using real, good-quality fish. If you can't get snapper, any firm, sweet white fish, such as cod or even monkfish, would work well.

CRUMBED SNAPPER BURGER WITH TARTARE SAUCE
MAKES 4 
• 2 free-range eggs
• 100ml milk
• 75g (1/3 cup) plain (all-purpose) flour, for dusting
• 120g (2 cups) panko breadcrumbs
• 4 x 100 g pieces of snapper, skinless and boneless
• Vegetable oil, for deep-frying
• 4 soft burger buns, cut in half
• Melted clarified butter, for brushing
• 125g (½ cup) tartare sauce
• 8 butter (bibb) lettuce leaves, washed and dried
• 2 lemon wedges
1. Whisk eggs and milk together in a bowl. Place flour and crumbs in two separate bowls. Season snapper fillets with salt and freshly ground black pepper. Dredge fish in flour, then shake off excess. Dip into egg wash, then into panko crumbs. Press lightly to make sure fish is well coated with crumbs and there are no gaps in coating. Reserve in fridge until ready to fry, but try to coat fish as close to cooking as possible, so crumbs don't absorb too much moisture.
2. Heat about 10cm of oil in a medium saucepan, to about 175C. Test by dipping a wooden chopstick in – oil should sizzle when ready.
3. Carefully lower two snapper fillets into oil and fry for 2–3 minutes, or until golden, crisp and cooked through. Drain immediately on paper towel and keep warm. Repeat with remaining two fish fillets.
4. Meanwhile, heat a large non-stick frying pan or flat grill plate to a medium heat. Brush insides of buns with clarified butter and toast lightly on grill, then build burgers.

BUILD FROM THE BOTTOM, IN THIS ORDER:
Bun bottom — tartare sauce — lettuce — fish fillet — squeeze of lemon juice — sprinkling of sea salt — bun top
• This is an edited extract from The Huxtaburger Book by Daniel Wilson published by Hardie Grant Books.
Share this:
More Food & Drink / Dinner