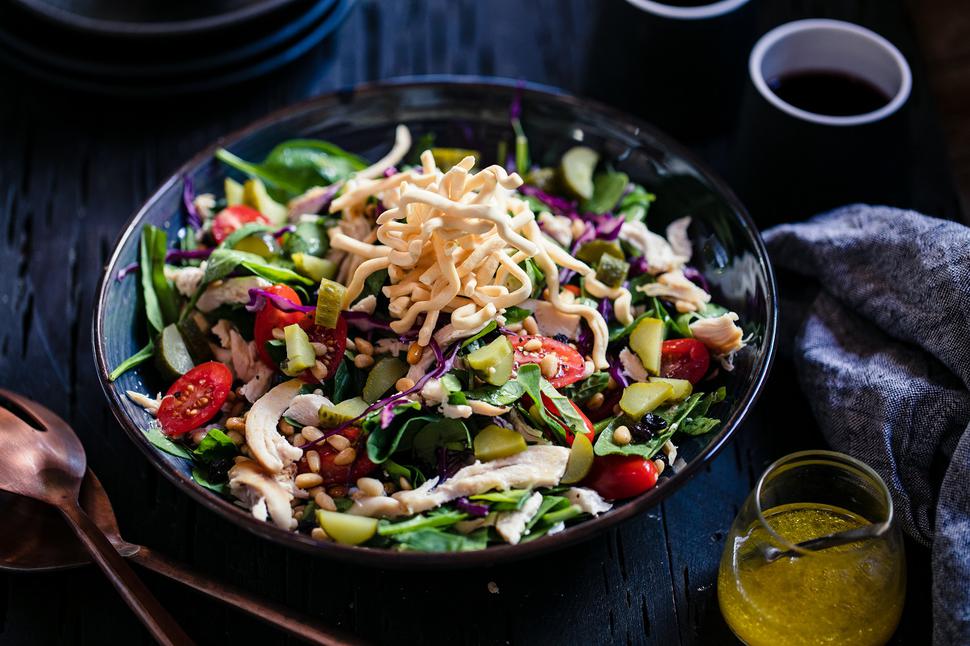 Crunchy Chicken, Spinach & Pine Nut Salad With Orange Dressing
Cheat your way to a delicious meal with this throw-together chicken salad
Friday March 1, 2019
You can always create a meal with a bag of spinach as a base. I am totally cheating here using a store-bought cooked chicken and shredding it with an array of ingredients from the fridge and pantry. A light orange and Dijon mustard dressing is all that is needed, plus some crunchy noodles for a little bite.
CRUNCHY CHICKEN, SPINACH & PINE NUT SALAD RECIPE
Serves 4
Dressing
1/4 cup olive oil
1 Tbsp orange zest
1/4 cup orange juice
2 tsp Dijon mustard
1 tsp sugar
Salad
100g spinach, shredded
3 cups shredded cooked chicken
150g cherry tomatoes, halved
1 cup shredded red cabbage
4 large gherkins, diced
1/4 cup toasted pine nuts
1/4 cup currants
Salt and freshly ground pepper
2 cups crispy noodles
1. For the dressing, into a glass jar place the oil, zest, juice, mustard and sugar shaking well.
2. For the salad, into a large bowl place the spinach, chicken, tomatoes, cabbage, gherkins, pine nuts, currants, salt and pepper.
3. When you are ready to serve, pour over the dressing and toss well. Sprinkle with handfuls of crispy noodles.
Share this:
More Food & Drink / Recipes