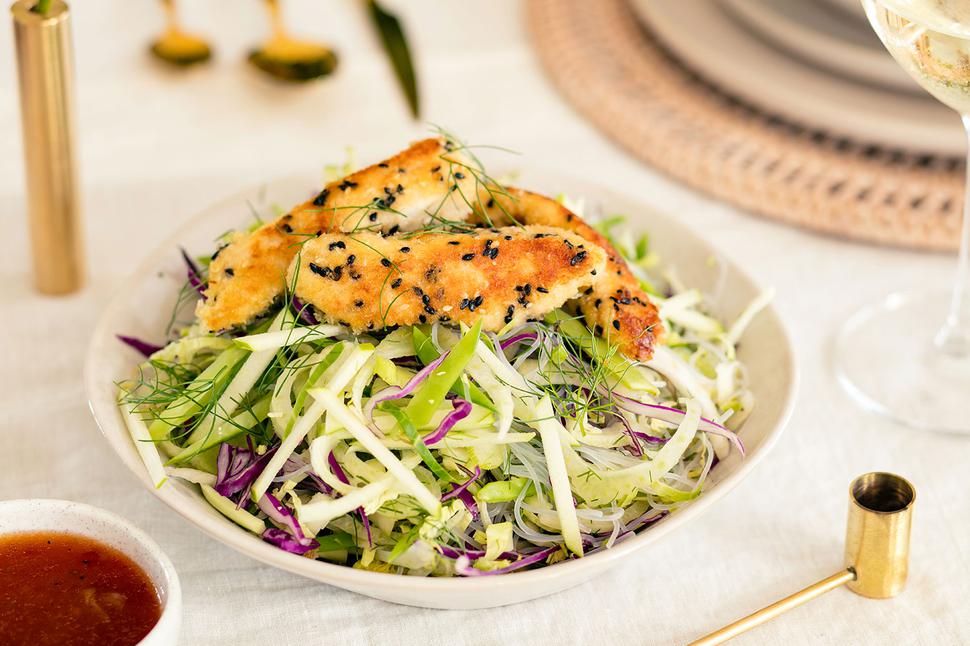 Crunchy Fennel, Apple & Noodle Slaw
Searching for the perfect salad? This crunchy slaw ticks all the boxes
Friday Nov. 30, 2018
A crunchy slaw is perfect for any occasion over the festive season. Here I've topped it with some crispy snapper pieces dipped in egg and breadcrumbs. It is equally delicious on its own. Toss the light dressing through close to serving. If you are cutting the fennel and apple early, place it into a bowl of water with lemon juice to prevent it from browning.
CRUNCHY FENNEL, APPLE & NOODLE SLAW RECIPE 
Serves 8
Dressing
1/4 cup lime juice
1/4 cup olive oil
1 Tbsp sesame oil
1 Tbsp soy sauce
1 Tbsp sweet chilli
1 tsp brown sugar
2 tsp grated ginger

Salad
150g vermicelli noodles
1 bulb fennel, sliced finely
1 green apple cut into sticks
Zest and juice of 1 lemon
2 cups finely shredded red cabbage
1 cup chopped coriander
2 spring onions, sliced finely
100g chopped snap peas
Salt and pepper to taste
Crumbed crispy snapper, optional
1. Soak the vermicelli noodles in just-boiled water for 10 minutes, then drain.
2. For the dressing, combine well the lime juice, oils, soy, sweet chilli, sugar and ginger in a jar.
3. In a large bowl combine the fennel, apple and lemon, tossing together. Then add the cabbage, coriander, spring onion and snap peas. Toss through the cooled noodles.
4. Toss through the dressing, season.
5. Top with crumbed snapper to serve.
Share this: