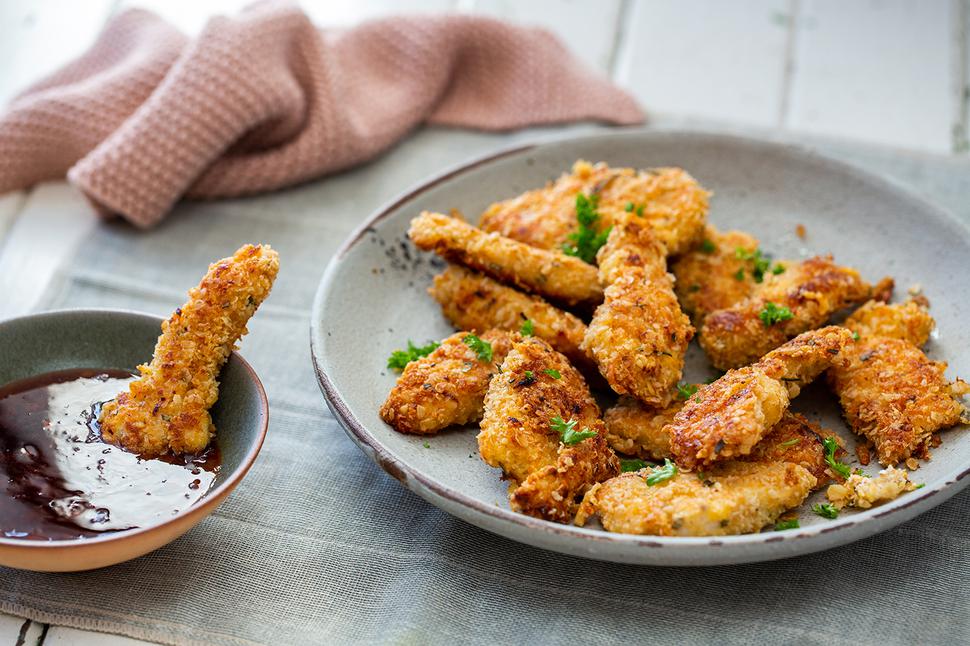 Crunchy Oat-Coated Chicken
These crispy little tenders are weeknight-friendly — and will make you rethink how you use oats
Friday Aug. 13, 2021
These chicken tenders can be prepared ahead of time. If you're doubling the recipe, brown the chicken in a pan and finish it in a hot oven for 10 minutes. Then it can all be ready at once.
CRUNCHY OAT-COATED CHICKEN RECIPE
Serves 4
2 free-range chicken breasts
1 cup rolled oats
½ cup breadcrumbs
1 Tbsp chopped rosemary
¼ cup flour, seasoned
1 egg whisked with 2 Tbsp water
Oil and butter for cooking
Sweet chilli or garlic aioli, to serve
1. Cut the chicken into thin slices. Combine the oats, breadcrumbs and rosemary in a bowl.
2. Dust the chicken in flour, dip into the egg, then coat in breadcrumbs. Refrigerate, covered, until ready to cook.
3. Heat some oil and a knob of butter in a frying pan to a medium heat. Cook the chicken tenders a few at a time until golden brown, turning once. Keep warm while you cook the remainder.
Share this: