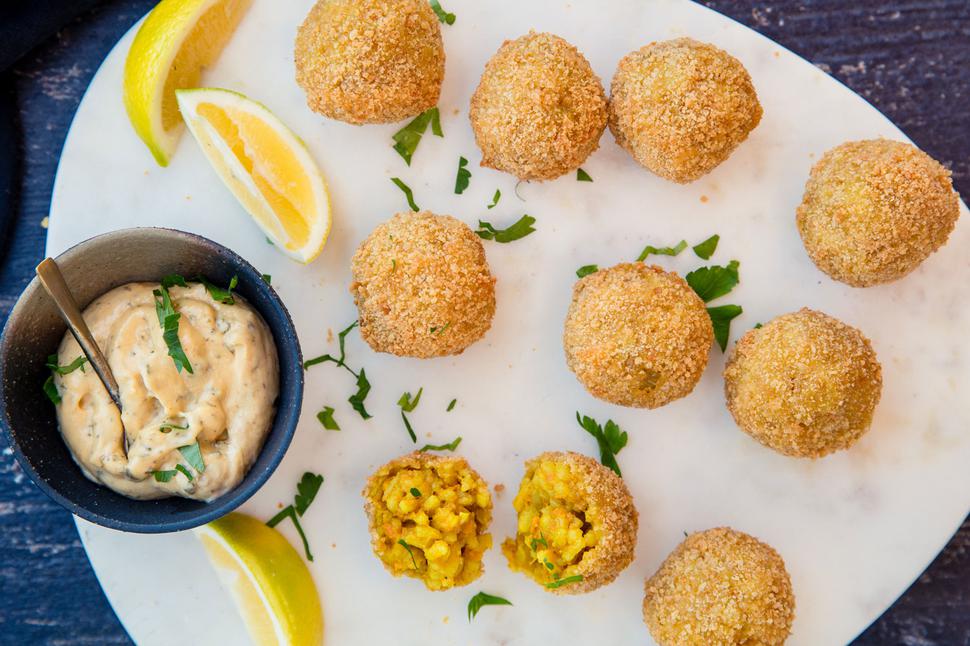 Curried Pumpkin Risotto Balls With Garlic Aioli
Prepare to be the host with the most with this moreish recipe up your sleeve
Friday June 15, 2018
After a day out in the cold there is nothing better than sinking your teeth into a hot crisp pumpkin risotto ball. The key is to cook the risotto until smooth and creamy, so the rice will just squish between your fingers. This recipe is perfect for entertaining as the balls can be rolled and breadcrumbed earlier in the day ready for cooking.
CURRIED PUMPKIN RISOTTO BALLS RECIPE 
Makes 20

2 Tbsp olive oil
1 onion, finely chopped
2 cloves garlic, crushed
2 cups grated pumpkin
1 Tbsp curry powder
250g risotto rice
½ cup white wine
3 cups hot vegetable or chicken stock
2 tsp lemon zest
¾ cup grated parmesan
1 Tbsp butter
Salt and freshly ground pepper
½ cup flour
2 eggs, whisked
3 cups fine breadcrumbs
To serve — garlic aioli
1. Warm the oil in a large heavy-based pot. Add the onion and garlic cooking for 4 minutes to soften but not brown. Add the grated pumpkin and continue to cook for 7 minutes until it is just soft. Stir through the curry powder.
2. Add the rice and stir through until it is hot and well coated in spice. Pour in the wine and cook for 3 or 4 minutes.
3. Add half a cup of stock and stir until it absorbs. Continue this process until all the stock is used. The rice will take about 25 minutes to cook. If you need a little more liquid use boiling water.
4. Stir through the zest, parmesan and butter. Remove from the heat, season with salt and pepper to taste. Place the risotto into the bowl, cover and allow to cool completely.
5. Roll the risotto into walnut-sized balls and place on to a lined tray. Place the flour, eggs and breadcrumbs into three bowls. Dust the balls in flour, dip in egg then roll in breadcrumbs and refrigerate until ready to cook.
6. Just before serving, heat a deep-fat fryer or pot (half-fill) with flavourless oil to 170C. Place one ball in to test the temperature and cook for 3-4 minutes, removing with a slotted spoon. Continue with the remaining balls.
7. Serve hot with garlic aioli.
Share this:
More Food & Drink / Recipes