Dark Chocolate Cherry Almond Bark Recipe
Give your Valentine a delectable chocolate gift that's also good for the heart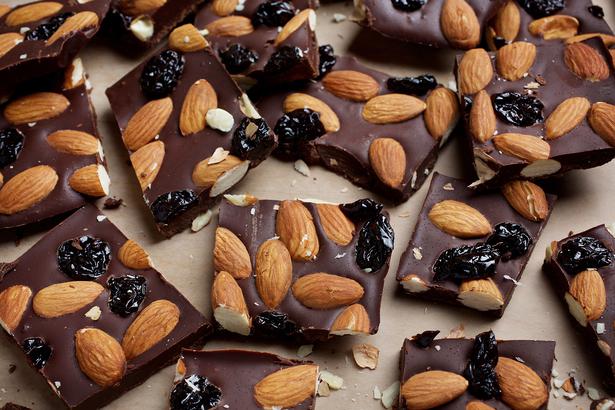 Sunday Feb. 12, 2017
This recipe is a luscious way to celebrate your love, or at least your love of chocolate, in a way that loves you back.
It has just four easy-to-find ingredients, each lending its own sensuous element and remarkable health benefits. Rich, dark chocolate, with its intoxicating melt-in-your mouth quality; a touch of fragrant grated orange zest; a generous helping of crunchy almonds; and chewy, sweet-tart dried cherries all bring a considerable dose of health-protective antioxidants along with their flavor. The almonds and cherries add essential nutrients and longer-lasting satisfaction, to boot.
Making this candy is almost as easy as eating it: Just melt the chocolate, stir in the zest, pour into a baking paper-lined pan and scatter with the fruit and nuts. (You could swap in any nut and dried fruit you like or have on hand.) Let the chocolate set in the refrigerator for an hour, then break it into pieces.
It's a simple, but delightful, Valentine's Day gift that is good for your heart in every sense of the word.

DARK CHOCOLATE CHERRY ALMOND BARK
Makes 24 pieces
This luscious candy is not only easy to make, it's also good for you. It's loaded with health-protective antioxidants and essential nutrients, for a treat you'll love that loves you back. The bark needs about an hour's refrigeration to set. Store it at room temperature in an airtight container for up to two days.
1 cup whole, skin-on almonds
340g dark chocolate, finely chopped (60 to 70 per cent cocoa solids, or bittersweet)
½ tsp finely grated orange zest
1/3 cup tart dried cherries (coarsely chopped if they are large)
1. Preheat the oven to 190C. Pleat a 50cm-long piece of baking paper lengthwise to make a 20cm-wide strip, then fit it into a 20 x 30cm baking dish like a sling, pressing the paper into the corners to line the bottom and the two short sides of the pan. (The paper should overhang the two short sides.)
2. Spread the almonds on a baking sheet; toast in the oven for 7 or 8 minutes, until fragrant. Let them cool.
3. Place about three-quarters of the chocolate in a heatproof bowl set over a pot with a few inches of barely bubbling water (over medium or medium-low heat). Heat, stirring, until the chocolate has melted. Transfer the bowl to a folded dish towel on the countertop. Add the remaining chocolate, stirring until melted, then stir in the orange zest.
4. Pour that chocolate into the lined baking dish, and use an offset spatula to spread it evenly. Scatter the toasted almonds and dried cherries over the top, then refrigerate for an hour to set.
5. Remove the chocolate from the baking dish and discard the paper. Cut or break up the bark into 24 pieces that are about the same size. Store at room temperature in an airtight container for up to two days.
- The Washington Post
Share this:
More Food & Drink / Recipes