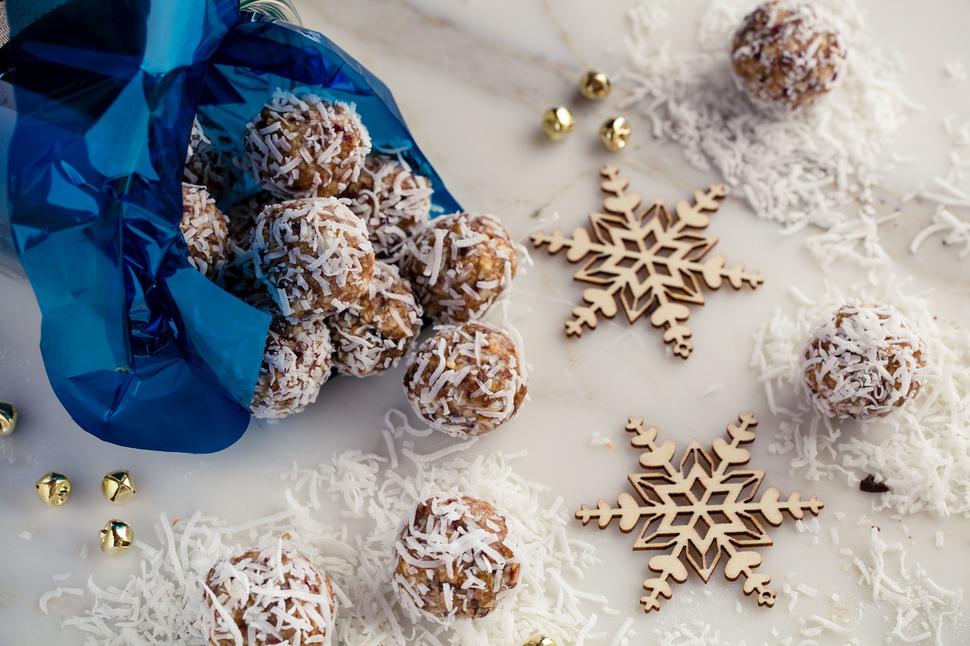 Date, White Chocolate & Cranberry Christmas Balls
'Tis the season for treats. Luckily, these ones are not too naughty
Saturday Dec. 8, 2018
These Christmas balls are a sweet delight. Placing a few ingredients into a processor, blitzing, shaping and rolling in coconut has to be the easiest assembly and will appeal to all ages. They're also a great addition to a picnic basket, at any kind of celebration or simply with afternoon tea.
DATE, WHITE CHOCOLATE & CRANBERRY CHRISTMAS BALLS RECIPE 
Makes 20
140g skinless almonds
3/4 cup dried dates, soaked for 10 minutes then drained
½ cup white chocolate chunks
¼ cup dried cranberries
3 Tbsp coconut oil
2 Tbsp crystalised ginger
1 cup shredded coconut
1 tsp lemon zest
Extra coconut for rolling
1. Into a kitchen blender place the almonds and dates, blitzing until well combined. Add the chocolate, cranberries, oil, ginger, coconut and lemon zest. Blitz again until the mixture is sticking together.
2. Roll into small balls, then roll in coconut. Store in the fridge until ready to wrap and give.
Share this: