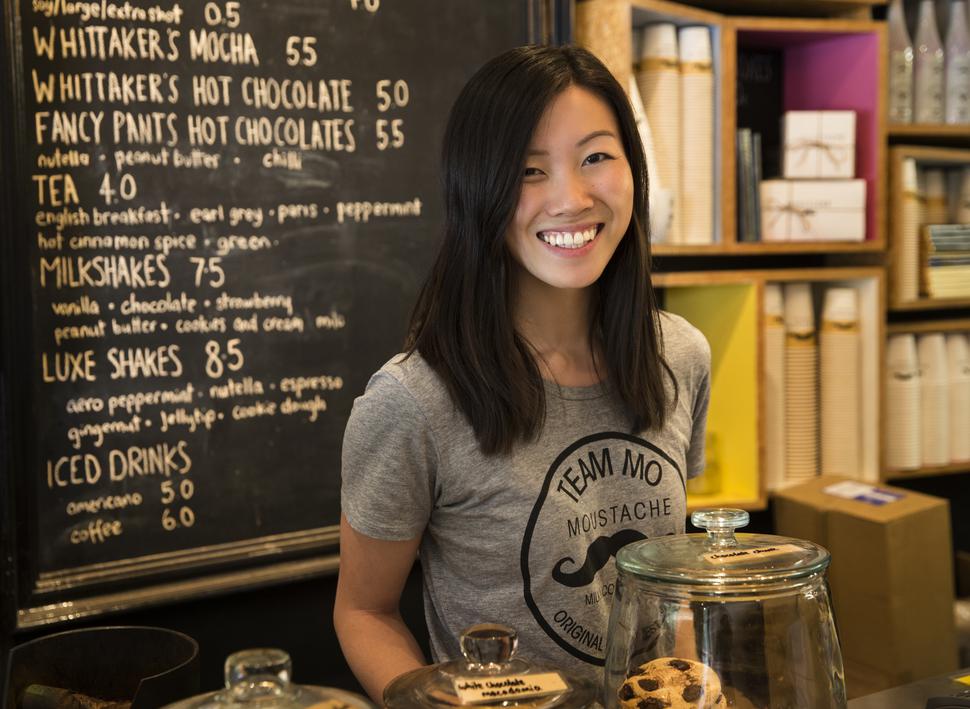 Food Heroes: Deanna Yang, Moustache
Meet the stars of the food and drinks industry, Kiwi entrepreneurs determined to make the world a better place
Friday Jan. 1, 2016
Deanna Yang is living proof of good karma. At 22, she opened the Moustache milk and cookie bar next to Auckland's Civic Theatre, ticking off an item on her childhood bucket list. It was an instant hit and Deanna has since routinely shared in the company's success, running small but powerful initiatives to give back — giving a cookie in exchange for a can of pet food for the SPCA, baking packages for doctors and nurses at Starship, and her latest drive, matching customers' cookie donations for families at Women's Refuge at Christmas. In 10 days, $1000 of cookies were pledged.
"I've lived in many women's refuges, growing up," Deanna explains. "It's a fantastic orgnisation and I'm super-appreciative of the work they do. It's never easy, and it's voluntary."
This year the power of the Moustache network came into focus when the rent for Deanna's tiny CBD bar rose an untenable 40 per cent. A #savemoustache campaign followed, exploding when Lorde tweeted her support. The idea: to close the bricks and mortar store and take it on the road in a custom-pimped schoolbus. In just four weeks, she raised $91,000 through crowdfunding platform Pledge Me. Some of the donors, like a woman in Tahiti, and another in Egypt, had never even stepped foot in Moustache or tasted her cookies. But they'd read her blog, in which she details the minutiae of life in business, showing both the strengths and vulnerability behind her success story.
However, nothing had prepared her for the groundswell of support.
"I think maybe it's the human element," she says. "When we went through struggle, that's when the community supported us too."
After months of restoration, installing a full-sized commercial kitchen and a dining area, the moveable Moustache Bedford is finally ready to roll.
Her brother quit his job as a biofuel engineer to drive it from Cape Reinga to Invercargill over summer, stopping at various hotspots along the way, before they park up somewhere semi-permanent back in Auckland.
Deanna's the first to acknowledge that her contribution is small in the grand scheme of things, but incorporating giving into everyday life is at the heart of her business philosophy.
"Money can be the root of all evil, but attached to a social purpose, it can be the root of opportunity," she says.
"I came into the business with that mentality, that money is for making things happen."
Share this: