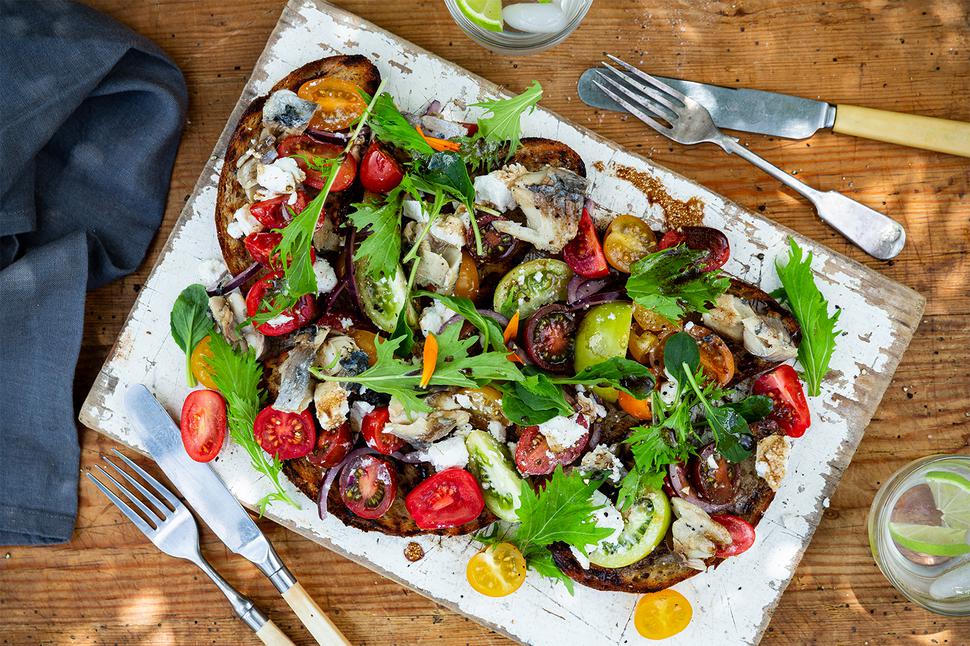 Deliciously Salty Sardine & Tomato Bruschetta Recipe
Serve this savoury stand-out as a snack at your summer soirees
Wednesday Jan. 13, 2021
The key to making stand-out bruschetta and a simple salad, like this one, is the quality of ingredients, especially a good olive oil for drizzling over the top.
Don't forget that sardines can be salty, so taste the mixture before you grind the extra salt and pepper to finish.
SARDINE AND TOMATO BRUSCHETTA
Serves 4
8 slices ciabatta
2 garlic cloves, halved
Oil, to drizzle
Salad
100g feta
500g mixed tomatoes, chopped
1 tin sardines, drained
½ red onion, sliced
2 cups lettuce leaves
2 Tbsp balsamic vinegar
2 Tbsp olive oil
Salt and freshly ground pepper, to taste
1. Preheat a barbecue to a medium heat. Rub the bread with the garlic cloves and drizzle with a generous amount of oil. Toast over the barbecue, turning once. Place on a serving platter.
2. Spread each piece of toast with a layer of feta. Into a large bowl add the chopped tomatoes, break up the sardines roughly and add. Sprinkle over the onion and add the leaves. Gently combine and pile mix on top of the toasts. Drizzle with vinegar and oil.
3. Season to taste.
Share this: