Chef Des Harris Farewells Clooney
As he prepares to move on, executive chef Des Harris reflects on his eight years at the helm of Clooney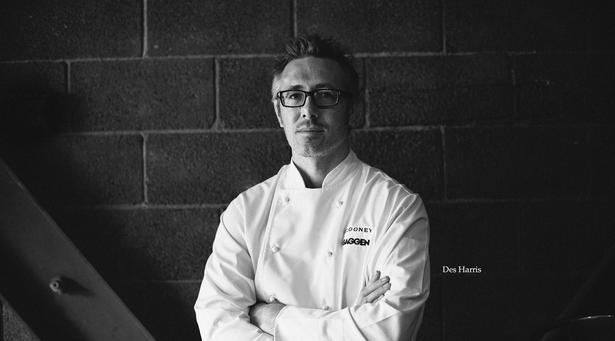 Friday Oct. 14, 2016
Iconic Auckland restaurant Clooney celebrates its 10th birthday on Tuesday with a 10-course retrospective degustation dinner. It's also a celebration of the legacy of executive chef Des Harris, who is leaving the restaurant after more than eight years at the helm. We caught up with Des to chat about his time at Clooney, and to see what he's up to next.
What was the dining scene like in Auckland when you first started at Clooney in 2008?
Coming from the Wellington fine dining scene, Auckland was completely different . . . up here it was much more busy from night to night to night. Very compressed services, very hard-going. It took a while to adjust. There's a lot more competition now. Ten years ago there wasn't as much.
Who were the main competitors back then?
Always The French Cafe. They're the yardstick. You had Michael Meredith branching out, opening his own restaurant. Sid Sahrawat at The Grove. The two chefs I admire the most are Sid and Michael. There have always been heaps of good food options here, but these days you've got lots of very, very good cooks realising they don't need to be cooking in fine dining restaurants, offering their skills in a more casual way. It's changed the game considerably. You have to be good and you have to reinvent yourself, and you have to keep changing and be on top of your game.
Which up-and-coming chefs would you recommend keeping an eye on?
Tom Hishon [Orphans Kitchen] is an obvious one, [for] his freedom of thinking. He's very much his own man. I worked with Tom for a couple of years and I really admire his give-it-a-go attitude. I was taught old-school. The new age of cookery is incredible, the information is so much more accessible to everyone now in terms of what's available on the internet. When I was a younger chef you had to go work for somebody or had to go to the library. To learn was a slow process, and true, your palate evolves and you learn how to cook, but now days, it's all there online.

It seems like the cooking community is quite supportive of one another . . .
It's always going to be competitive, but we're all chefs and we all understand and respect each other. It's key that we all try and do something that's a little bit different to one another — we all have the same influences and we all look overseas, but where I think I've really hit it here is I cook a really distinctive style of food that has evolved. It's in tune with the environment, and is rich and yummy and has depth, and has huge flavour and is really satisfying to eat. The link between my food and Clooney is really strong. I'm excited to see where [new chef Jacob Takehiro Kear] will take it.

What are some of your main accomplishments at Clooney?
Keeping the restaurant open! That's been a huge one, because it hasn't been easy.

What impact has the restaurant had on Auckland's dining scene?
It showed Auckland that you didn't need to have tablecloths. Tablecloths are not important, it's about what you put on the plate and the environment. Clooney has always been a place that you got dressed up for and you came to for a night out. [But] we're not the most expensive restaurant, we're very generous with our service and our space — I think the service is really down-to-earth and relaxed. So I think we have changed the fine dining scene in Auckland. We have this problem where we don't really fit into a category, and I like that.
How did you develop the menu for the 10-year anniversary dinner?
It's really hard to pinpoint my 10 favourite dishes because they're seasonal. I've got lots of good dishes that I can't serve, so that was the first bummer for me. I just put together 10 dishes that I like cooking, not thinking about anyone else. There are some old ones, some new ones. There's a really strong collection of dishes from 2014.

What's next on the agenda?
Right now I'm helping Chris Rupe [SPQR] open his new bistro [in the old Ponsonby Post Office building at Three Lamps]. It's really cool. We're creating something which is incredibly straight up and down French, very classic, with substance. We're not looking to recreate the wheel, we're looking to create a local bistro which is going to have a broad appeal. It's going to be beautiful. There's nowhere to hide with the food; it will speak for itself. It's got to be perfectly executed, with simple components — completely different to what I do here, which is nice.
Long-term, at Alexandra Park [at the new residental development] I'm helping create a super-varied gourmet food experience. It's not restaurant-based per-se, but it's going to get me into pre-prepared meals and good take-home food options. I'm going to reappear at the end of next year, if it all goes to schedule. I'm only 41 so I've got a lot of time left.
What do you know about your replacement, Jacob Takehiro Kear?
There are a lot of chefs out there that say "I've worked at ..." when they've really only done work experience ... this guy really has worked at noma — he's worked at all three nomas. He's legit. It's pretty amazing that Tony [Stewart, the owner] has found someone of this stature, somebody's who's going to help take the restaurant to a new level in terms of what they do on the plate.
Clooney's 10-Year Anniversary Dinner Menu:
Tuna, frozen yuzu, caviar
Crab, sunflower, sunchoke, horseradish
Scampi, pea tendril juice, pork flavours
Alpine salmon, smoked eel, cilantro, rice
Quail, mustard, parsnip, maple, hazelnut
Duck, morcilla, miso, beetroot, cabbage
Natural lamb, nettle, date, farro, olive
30-month aged comte, garlic
Green tomato, verjus, sorrel, pollen
Tamarillo, yoghurt meringue, chilli, lime
Burnt buffalo milk, valrhona
Clooney's 10-Year Anniversary Dinner is on Tuesday October 18. $200pp, including a glass of Perrier-Jouet Grand Brut (an optional wine match showcasing 10 vintages from 2006 is an additional $100pp). To book, ph (09) 358 1702.
Share this: