Designer-inspired cocktails + recipes
Four cocktail recipes inspired by some of New Zealand's most celebrated fashion designers.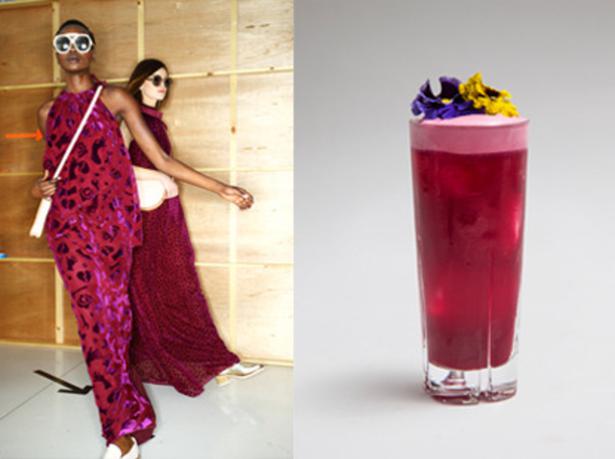 Tuesday Aug. 12, 2014
Love gin? Fancy yourself as an at-home mixologist?
Bombay Sapphire's resident bar man Dickie Cullimore has taken inspiration from some of New Zealand's most successful fashion designers, in anticipation of next week's Marr Factory fashion shows at The Golden Dawn.
Cullimore has focused on collections from Zambesi, Karen Walker, Kate Sylvester, Workshop Denim and more, studying colour, fabric and all-round vibe, to produce the cocktail equivalent for each.
Replicate his creations with these recipes below.

KAREN WALKER'S BEETROOT FIZZ (pictured above)
Serves 1
"I was struck by the vivid, intense deep burgundy featured in Karen's collection and the flow and length of the garments - it inspired everything from colour, texture and glass choice."
• 45ml Bombay Sapphire
• 45ml East Imperial soda water
• 30ml lemon juice
• 15ml orgeat syrup
• 15ml beetroot syrup
• Half an egg white
• Yellow and violet pansy
1. Add Bombay Sapphire, lemon juice, orgeat syrup, beetroot syrup and egg white to a shaker.
2. Shake vigorously.
3. Strain mix into a highball glass.
4. Gently top with soda water, and allow to settle.
5. Garnish with yellow and violet pansy.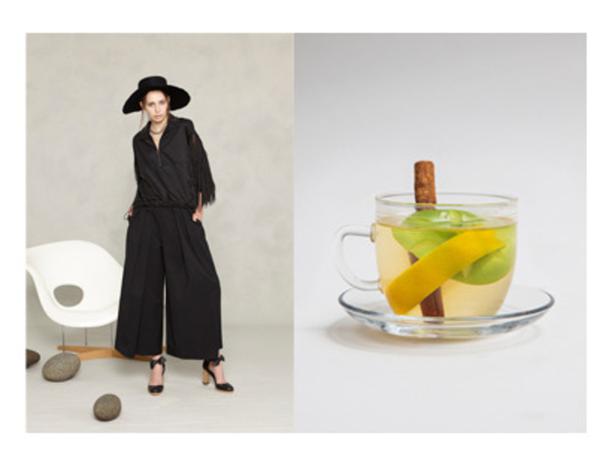 ZAMBESI'S FANCY GIN & TONIC 
Serves 1
"Linear constructed, depth of layers and dark, blackberry-coloured intensity of certain garments are behind the inspiration for this drink. Bombay Sapphire's floral topnotes sit alongside fresh blackberry in the first sip, with a slight bitterness to round it out."
• 45ml Bombay Sapphire
• 90ml East Imperial superior tonic
• 5ml Creme de Mure
• 5ml Campari
• 5 blackberries
• 2 lemon wedges
1. Add blackberries and squeezed lemon wedges to glass.
2. Pack glass with ice cubes.
3. Add gin, tonic, Campari and Creme de Mure to glass.
4. Garnish with blackberry leather and a ribbon of lemon zest.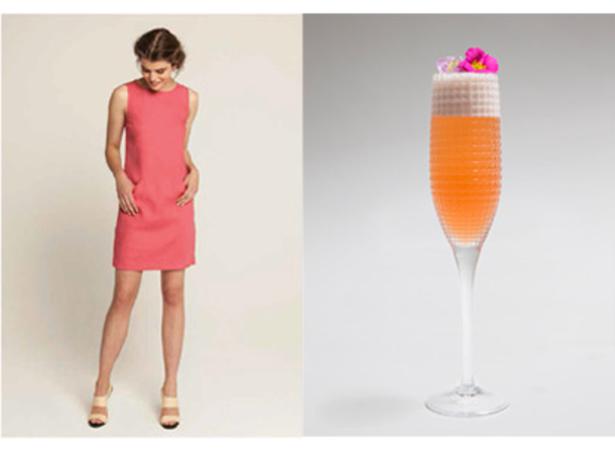 WORKSHOP DENIM'S POMEGRANATE FIZZ 
Serves 1
"There's a real femininity, beauty and innocence to this collection that I wanted to capture. The delicate flavours, texture and colour of roses and pomegranate take centre stage in this cocktail. Elegant and velvetine to the very last sip."
• 30ml Bombay Sapphire
• 45ml East Imperial soda water
• 15ml lemon juice
• 15ml pomegranate grenadine
• Half an egg white
• 2 drops of rosewater
1. Add Bombay Sapphire, lemon juice, pomegranate grenadine, rosewater drops and egg white to a shaker.
2. Shake vigorously.
3. Strain mix into the flute, and gently top with soda water to finish.
4. Allow fizz to settle, add a final drop of rosewater.
5. Garnish with rose petal.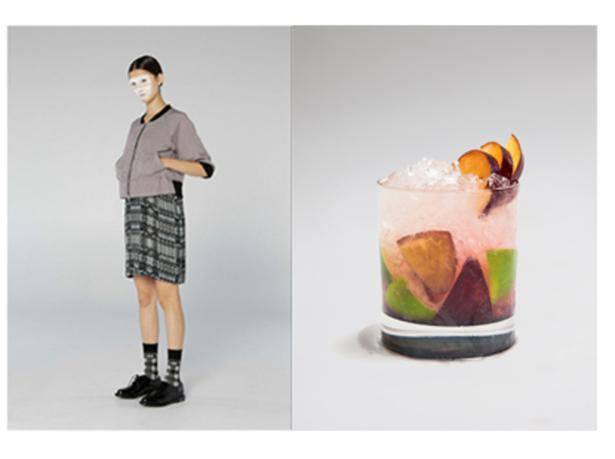 KATE SYLVESTER'S HOT APPLE GIN CIDER 
Serves 1
"I pictured a North American man, all flannel and suspenders, coming home to a girl after a cold day cutting down trees in the woods. She's the homemaker, maybe she had to forage for ingredients - what would she find? What would she make him?"
The result? The classic combination of apple and spice, cinnamon and vanilla, and complementary lemon and honey flavours.
• 30ml Bombay Sapphire
• 60ml Kirin Fuji apple cider
• 15ml Martini Bianco
• 15ml lemon juice
• 10ml runny honey
• 1 vanilla pod
• 1 cinnamon stick
1. Add gin, apple cider, Martini Bianco, lemon juice, honey, vanilla pod and cinnamon stick to pot and gently heat, stirring occasionally.
2. Once heated, pour liquid into teacup.
3. Garnish with cinnamon stick, apple slice and lemon zest.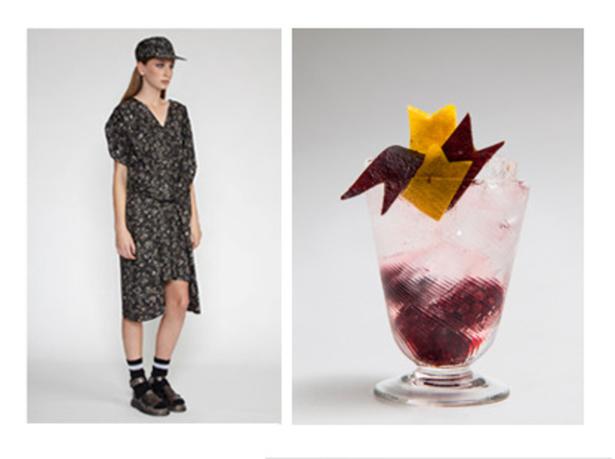 NOM*D'S BLACK PLUM SPLASH
Serves 1
"I wanted every mouthful of this drink to be different, fluid, and layered, reflecting the textural variance, patterns, power and attitude in the Nom*D collection. The intensity of lime in one mouthful; the richness of plum in the other."
• 45ml Bombay Sapphire 
• 5ml Cassis 
• ¾ Lime 
• Heaped teaspoon of raw sugar 
• Half a plum 
• One torn kaffir lime leaf
1. Muddle lime and sugar in tumbler.
2. Add gin, cassis, plum, kaffir lime leaf, and crushed ice to shaker.

3. Shake then pour mix into tumbler.
5. Garnish with plum slivers. 

Buy tickets to The Marr Factory shows - Karen Walker, Nom*D, Workshop & Helen Cherry, Zambesi and Kate Sylvester - here.
Share this:
More Food & Drink / Wine & Drink