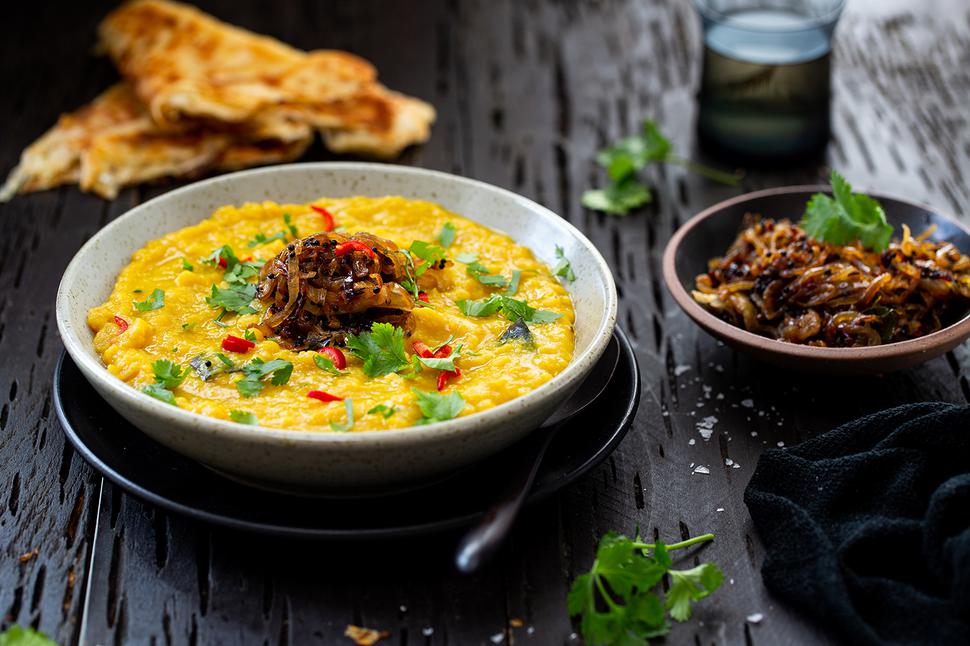 Dhal With Crispy Onions & Naan Bread
This deeply flavourful vegetarian dish is perfect on cool days
Friday June 4, 2021
Take your time cooking the onions so they caramelise and become golden and sweet. Dhal gets better over time so if you are organised enough to cook it the day before, even better. There are some really good naan breads available to buy at your local supermarket to help the dinner prep along.
DHAL AND CRISPY ONIONS RECIPE
Serves 3
200g yellow lentils
100g red lentils
2 litres water
6 cloves garlic, crushed
½ tsp turmeric
1 chilli, chopped (red or green)
1 tsp salt
¼ cup grated ginger
Onions
1 tsp cumin seeds
1 tsp coriander seeds
2 tsp black mustard seeds
2 Tbsp olive oil
2 medium onions, thinly sliced
10 curry leaves
1 tsp sugar
To serve
Warm naan
Juice of 1 lemon
1 cup coriander leaves
Copped chilli, for sprinkling
1. Place the lentils, water, garlic, turmeric, chilli, salt and ginger in a large pot, slowly bringing to a simmer. Continue to simmer for 1 hour or until soft.
2. While the dhal simmers cook the onions. In a frying pan warm the cumin, coriander and mustard seeds until fragrant. Add the oil, onions, curry leaves and sugar, cooking very slowly for 25 minutes or until golden.
3. Add half the cooked onions to the dhal, reserving the rest to serve on the side.
4. Serve with warm naan bread, a squeeze of lemon, coriander leaves and chopped chilli.
Share this: