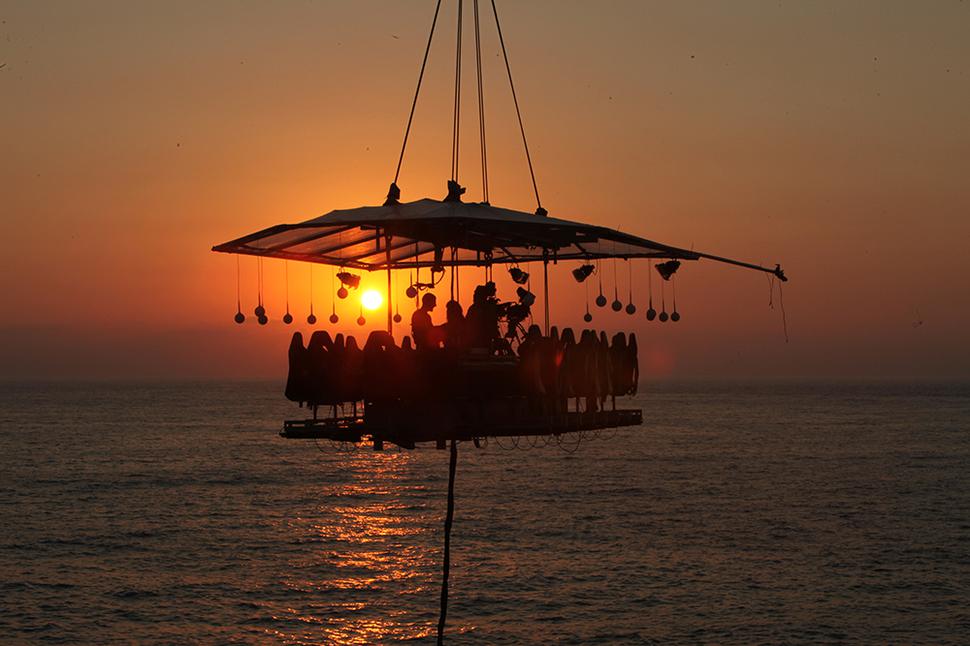 What It's Like to Dine in the Sky With NZ's Top Chefs
Incredible views, delicious food and champagne: what could be better?
Friday Feb. 2, 2018
With a champagne in hand to calm the nerves, Dinner in the Sky sees you strapped into a seat and raised 50 metres into the air to enjoy a fine dining experience like no other.
Launching over Auckland's Cloud today, with amazing views of the sea and harbour, the event features chefs such as Simon Gault, Gareth Stewart, Fraser Shenton, Phil Clark, and Juan Balsani as well as mixologists and wine experts.
When we visited, we went on a 'flight' with Guilo Sturla of acclaimed Christchurch restaurant Roots Lyttleton and two of his young chefs who prepared a three-course meal right before our eyes.
READ: 12 Restaurants Worth Travelling the World to See
After an amazing cheese roll (the only thing to have remained on Roots' menu since it opened) we dined on a salad of smoked raspberries and Curious Croppers' tomatoes, and then line-caught snapper with smoked eel and a mushroom sauce.
For dessert, it was fresh berries with white chocolate and a miso which gains it sweetness from a long and loving fermentation period.
It might be one of the best ideas for a Valentine's Day date in the city (as long as your love isn't afraid of heights). Picking the 8pm sunset session is sure to win you even more brownie points.
READ: Sid Sahrawat's Culinary Discoveries in Europe
If you're planning on embarking on this experience, which has travelled across the globe, we'd recommend wearing shoes that won't slip off, and wearing something long-sleeved if you're on an evening session.
Other than that, relax, enjoy — and take plenty of photos for Instagram.
• Tickets start at $255 from GrabOne
Share this: