SPONSORED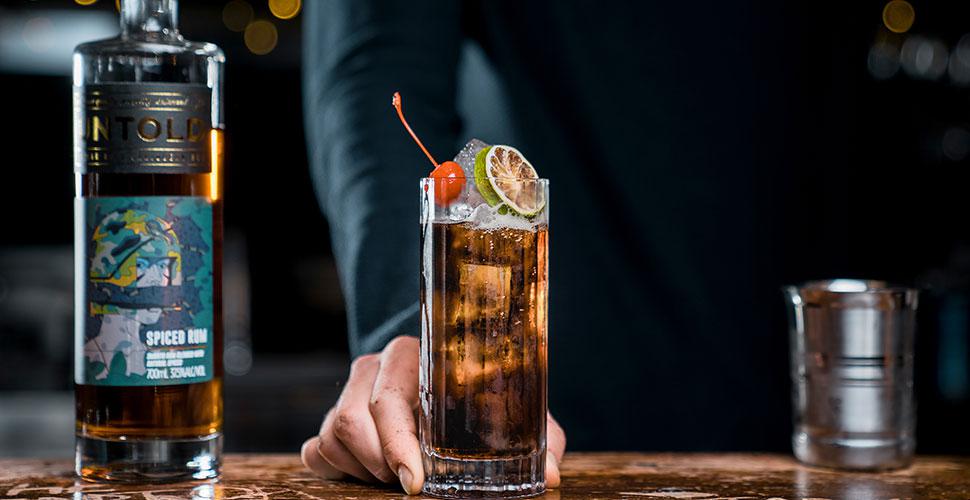 Discover Untold
Monday April 30, 2018
The hottest cocktail of choice for those in the know this winter? Anything with rum. The base of some of your favourite classic cocktails - mojitos, daiquiris, and the Instagrammable Mai Tai and Pina Colada - the smooth, golden spirit is having a revival. 
New premium spiced rum, Untold, available from some of Auckland's top bars, offers a collaborative, modern update on the classic, combining an authentic taste of the Caribbean with sophisticated branding. The 2-3 year aged golden Caribbean rum features the perfect balance of natural spices and subtle flavours, with fragrant vanilla, orange peel, cinnamon, clove, caramel and a hint of Scottish peat smoke.
Born from a collaboration between four credible bartenders and mixologists, the result is a unique, premium spiced rum made for mixing and perfect as a base for cocktails. That balance was key says Oscar Eastman, one of the bartenders behind the creation of Untold Rum.
"We created a spirit which could be enjoyed neat but would also complement a lot of flavours beyond the scope of other spiced rums on the market. We also took a lot of care to select the rums which would form the perfect blank canvas for the overlaying flavours."
Oscar, previously of the famous Melbourne prohibition-style cocktail bar Eau-de-Vie, worked alongside fellow Melbourne-based bartenders Dave Kerr (of The Beaufort), Nathan Beasley (Black Pearl) and Dre Walters (The Lobo Plantation) - together their collective knowledge feeding into the development of UNTOLD Rum.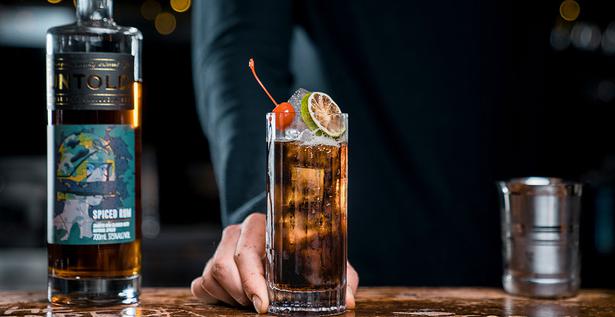 "We decided to focus on rum, specifically spiced rum, because we thought it was something that a lot of bartenders tend to look down their nose at," he explains. "It has been associated with house parties rather than sophisticated palates. Recognising this fact, we wanted to make something accessible but something we'd also be proud to pour in our bars."
While developing Untold, Oscar says they looked at cities like Melbourne, Auckland and Wellington, "which foster creativity in food, drinks and art but remain humble and accessible". They also wanted to stay clear of the spiced rum stereotype of nostalgic and masculine motifs - think pirates, sailors and sea monsters - working with New Zealand artist Andrew Archer on the contemporary, street art-inspired bottle branding.
The final blend that we now know as UNTOLD is a versatile Rum that offers the perfect base for anyone to enjoy it in their own way. However you enjoy the golden spirit, whether it's neat, as a built drink with classic mixers like Cola or ginger beer, or as the base for a stunning cocktail, rum lovers can shape their own Untold experience.
Originally distilled in Caribbean sugarcane plantations in the 17th century, rum has a storied history. "It's a little known fact that many of the first cocktails were rum based, as rum formed one of the cornerstones of the early American economy," says Oscar. "Back then, bartenders used rum quite differently to the way we see it following the emergence of Tiki drinks. The cocktail revolution has really challenged this and people are starting to rediscover the wonders of rum."
And while there's often talk of 'the return' of certain spirits, Oscar looks at it from a broader perspective, noticing that spirits in general having a moment.
"People are more curious and informed than ever about what they drink and we wanted to cater to both the novice and the experienced drinker. The craft spirits market has just exploded, and I think we're seeing people expand their horizons a long all categories."
For more, follow Instagram.com/untold.rum
What's your order?

Not sure what cocktail to ask for on a night out with friends? Bartender Oscar Eastman shares his rum recommendations:

If you haven't tried rum, try... A daiquiri.
If you've had a bad experience with sickly sweet rum in the past, try... A Royal Bermuda Yacht Club.
If you're a spirit connoisseur, used to drinking whiskey, gin or rum based cocktails, try... A Rum Manhattan.
Want to try UNTOLD rum?
Dave Kerr describes UNTOLD rum as "like eating Pandan Sorbet the morning after a country wedding around a smouldering campfire, with the taste of wedding cake still present".
Head to Parasol and Swing for a Broken Compass which brings together UNTOLD Spiced Rum, Aperitif de Normandie, Pandan & Ginger Soda, Black Walnut bitters, Mint and Lime.
Share this:
More Food & Drink / Wine & Drink