Dolly Parton Celebrates Pi Day ... With a Pie Recipe
The country music star has put her own spin on International Pi Day with a recipe for walnut pie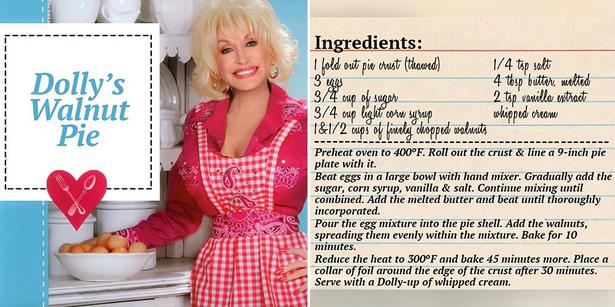 Wednesday March 15, 2017
Country music superstar Dolly Parton has come up with a different interpretation of International Pi Day with an Instagram post sharing her recipe for walnut pie.
"It may be #PiDay but I'm celebrating PIE!," Dolly says in the post.
Pi Day actually celebrates the mathematical symbol that represents the ratio of the circumference of a circle to its diameter — approximately 3.14159.
We're much greater fans of Pie Day, than Pi Day. Thanks Dolly! See her recipe below.
DOLLY PARTON'S WALNUT PIE RECIPE
Ingredients
1 fold-out pie crust (thawed)
3 eggs
¾ cup of sugar
¾ cup light corn syrup
1½ cups of finely chopped walnuts
¼ tsp salt
4 Tbsp butter, melted
2 tsp vanilla extract
Whipped cream
Method
1. Preheat oven to 400F (200C). Roll out the crust and line a 9-inch (23cm) pie plate with it. 
2. Beat eggs in a large bowl with a hand mixer. Gradually add the sugar, corn syrup, vanilla and salt. Continue mixing until combined. Add the melted butter and beat until thoroughly incorporated. 
3. Pour the egg mixture into the pie shell. Add the walnuts, spreading them evenly within the mixture. Bake for 10 minutes. 
4. Reduce the heat to 300F (150C) and bake 45 minutes more. Place a collar of foil around the edge of the crust after 30 minutes. 
5. Serve with a Dolly-up of whipped cream.
Be inspired by the good things in life. Sign up now to receive emails from Viva, and twice a week you will be sent the latest news, profiles, videos, fashion shoots, competitions and more.
Share this:
More Food & Drink / Recipes