Homegrown Kitchen's Double Chocolate Raspberry Puddings
Try this recipe from Nicola Galloway's new cookbook Homegrown Kitchen for decadent double chocolate raspberry puddings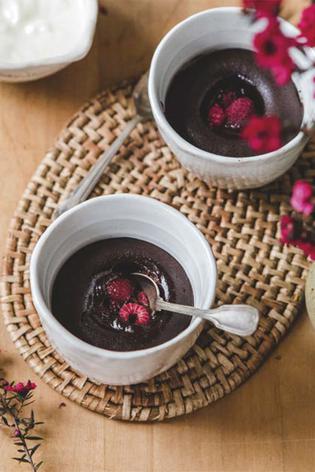 New Zealand chef and wholefood expert Nicola Galloway, best known for her Homegrown Kitchen blog and the cooking workshops she hosts around the country, has just released her third, beautifully photographed cookbook. Homegrown Kitchen is a collection of "everyday" recipes using local, seasonal produce, and features plenty of handy tips too, on the likes of preserving and fermentation. Here she shares a tasty dessert recipe. 
DOUBLE CHOCOLATE RASPBERRY PUDDINGS RECIPE
Serves 6
Chocolate and raspberry is the perfect marriage of flavours, and these puddings are the ultimate sweet treat using local bean-to-bar chocolate and raspberries from the garden. The trick is catching the puddings at the ideal sweet spot, when the edges are just cooked while the centre is still lusciously gooey.
Finding the perfect timing will depend on your oven, as domestic oven temperatures can vary – I always use an oven thermometer to read the temperature rather than rely on the oven dial, which can be incorrect by as much as 20C.
Eat these puddings warm topped with a dollop of yoghurt or drizzle of cream. If making these for a dinner party, the batter can be prepared ahead of time (see tip below) and baked after the main course. Your guests will be oohing and ahhing over these!

INGREDIENTS
100g butter
70g dark chocolate (70 per cent minimum), broken into pieces
2 Tbsp honey or maple syrup
4 Tbsp cocoa powder
3 free range eggs
Pinch of salt
½ teaspoon baking soda
1/3 cup fresh or frozen raspberries
Natural yoghurt (dairy or coconut), cream or coconut cream to serve

METHOD
1. Preheat oven to 180C. Grease six ½-cup ramekins with butter or coconut oil.
2. In a small saucepan, melt the butter then remove from the heat.

3. Add the chocolate, honey/maple syrup and cocoa powder, and whisk until melted. Mix in the eggs, one at a time, creating a thick batter, then fold in the salt and baking soda.
4. Pour evenly into the ramekins and drop 3-4 raspberries into each one, using a teaspoon to push them into the centre of the chocolate.

5. Bake for 10-12 minutes. After 10 minutes check to see if the surface is mostly set with a little melted chocolate showing. If not, bake for several more minutes (don't open the oven too much or the heat will be lost).
6. Remove from the oven and cool for 10 minutes before serving. Eat warm while the puddings are still gooey, with yoghurt or a drizzle of cream.

Tip: Make the batter ahead of time, minus the baking soda and raspberries. Cover and leave at room temperature until ready to bake. Then fold in the baking soda, pour the batter into the prepared ramekins, dot with raspberries and bake as above.

Flourless brownie variation:
Make the chocolate pudding recipe as above and pour into a lined baking tray (20cm × 25cm). Increase the raspberry quantity to ½ cup and dot them over the chocolate batter. Bake for 25 minutes until just set on the surface but still a little wobbly in the centre. Cool, then cut into 12 squares. Store in a container in the fridge and consume within three days.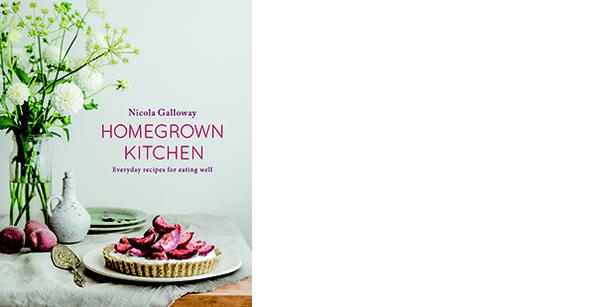 • Extract reproduced with permission from Homegrown Kitchen by Nicola Galloway, $50, published by Potton & Burton, available nationwide. 
Share this:
More Food & Drink / Recipes