On Trend: The Drinks Trolley
Suddenly it's all about glamorous cocktail accessories this Christmas — just add some ice, says Bethan Ryder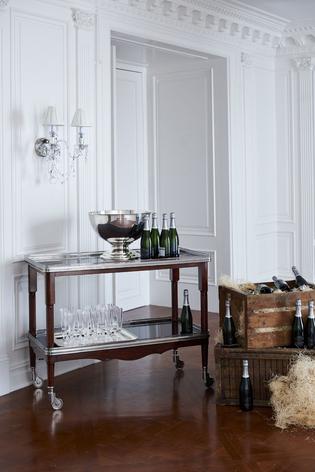 There's something deliciously retro about a drinks trolley. Like cigarette holders and smoking jackets, Cole Porter and crystal coupees, they're decadent and debonair, conjuring up old Hollywood glamour. An essential ingredient of the cocktail hour in a bygone era, drinks trolleys are back with a vengeance.
"With many of us living in smaller spaces, the traditional home bar or drinks cabinet may not be feasible, which is where the drinks trolley comes into its own," explains David Barrett, a British living and dining buyer. "Always on display, the drinks trolley is an extension of the homeowner's personality, and the most stylish will be dressed with rose gold barware and art deco-inspired decanters this season."
Trolleys tick all the boxes when hosting a soiree. Forget delving into a cupboard, or disappearing to the kitchen to rustle something up, a drinks trolley suggests speedy results. Not to mention the five-star service usually reserved for grand hotels.
Trolleys are making an appearance in restaurants and bars, too. Icecream, caviar, desserts and champagne are all served on wheels at London's Dinner by Heston Blumenthal and revamped Gleneagles hotel bar. Here in Auckland, new restaurant Culprit transports its European interpretation of yum cha dishes around on very cool custom-made trolleys, as well as offering a menu selection.
What better time to roll out a well-stocked drinks trolley than the Christmas party season? Seeking out a vintage trolley may be fun, but there are plenty of new models.
Design aficionados may opt for Alvar Aalto's utilitarian 901 (at Skandium.com), the sublime JZ tea trolley, a 1950s Brazilian Modernist beauty by Jorge Zalszupin (at Espasso.com), or David Rockwell's walnut and leather Valet bar cart for Stellar Works, which channels a gentlemen's club vibe.
For a touch of Hollywood glamour invest in chrome, glass, lucite and brass options from Ralph Lauren Home (check out the version pictured, available from Cavit & Co), Jonathan Adler or LuxDeco. Neptune's founder, John Sims-Hilditch, says: "An art deco-esque bar trolley has become a bit of a must-have. They look fabulous in a living room and at their best when stacked with iconic spirits, sophisticated tumblers, a cocktail shaker, a set of jiggers and a majestic decanter."
As we celebrate food with farmers' markets, street-food feasts and supper clubs, we've also elevated drink. It's been over 20 years since cocktails made a comeback, being liberated from their naff 70s image of umbrella-garnished saccharine concoctions. A generation of bartenders has been educating us ever since and now we're bold enough to try their moves at home. You can even cheat with pre-mixed cocktails.
There's little danger of that limoncello you brought back from Amalfi gathering dust — this is all about display. In the age of social media (there are some 50,000 Instagram posts with the caption #barcart), the cocktail trolley is the booze equivalent of a selfie. You can present your well-curated stock of spirits, shakers and bar tools — your shelfie — with pride. That's why British designer Tom Dixon introduced his Plum barware range in 2014, followed by the bestselling Tank in 2015. Just don't forget this year's essential addition — the pineapple ice bucket.
— The Daily Telegraph
Share this: