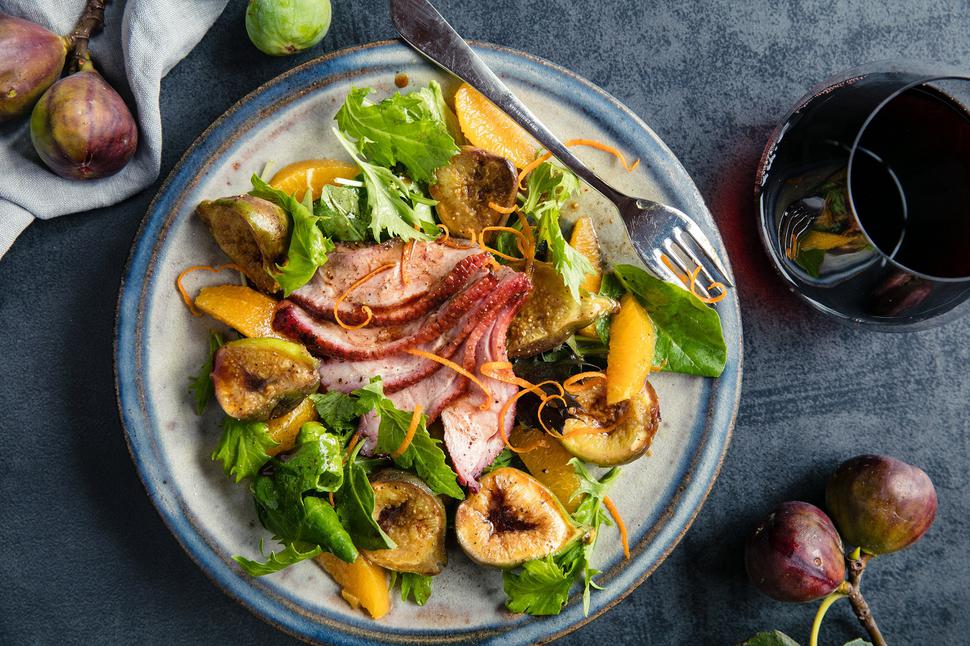 Duck, Orange & Roast Fig Salad
This salad sounds fancy, but is secretly so simple to make
Friday April 5, 2019
A great way to use plump figs is to bake them in the oven with orange juice and port, which becomes the dressing for drizzling over the salad. The jammy texture of the figs is lovely served with thinly sliced duck and orange segments. Simple yet sophisticated and a total pleasure to serve to friends.
DUCK, ORANGE & ROAST FIG SALAD RECIPE
Serves 2
Ingredients
6 figs, halved
¼ cup orange juice
¼ cup port
1 Tbsp sugar
1 duck breast, scored with a sharp knife
2 cups salad leaves
1 orange, segmented
Orange zest to garnish
Method
1. Preheat an oven to 180C.
2. In a small baking dish place the figs, fitting them together snugly. Pour over the orange juice, port and sprinkle the sugar. Place into the oven for 15 minutes to soften and cook the figs. Remove and set aside.
3. Heat a frying pan to medium-high. Start with the duck breast skin side down cooking for a 5-8 minutes, then turn over and cook for a further few minutes until just cooked through. Alternatively, if the duck breast is very fat, brown then place into a hot oven for 10-12 minutes. Remove and let it sit for 15 minutes.
4. To assemble the salad place the greens onto a plate, sprinkle on the orange segments, add slices of duck, figs, some orange zest and drizzle over the juices from the figs.
Share this:
More Food & Drink / Recipes