Duck Rice Paper Rolls Recipe
Party guests love these light, fresh rice paper filled rolls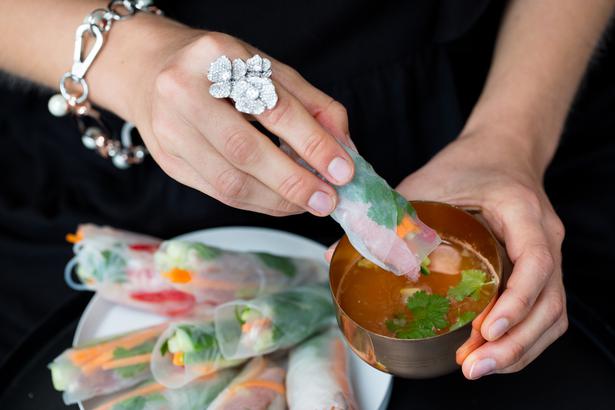 Friday Nov. 4, 2016
People always tuck into these light, fresh rice paper filled rolls. There are endless combinations — teriyaki chicken is a favourite — but here I used smoked duck which I found on a recent outing. It needs little attention, just slice the breast and add some crunchy fresh vegetables. Like the dipping sauce, it can all be made and plated up in advance. The rice paper will keep in the pantry for months.
Duck Rice Paper Rolls
Makes 12
Dipping Sauce
¼ cup lemon juice
2 Tbsp sweet chilli sauce
2 tsp fish sauce
2 Tbsp brown sugar
Rolls
12 sheets rice paper
1 smoked duck breast, sliced
½ cup coriander leaves
50g vermicelli, soaked in boiling water and drained
1 large carrot, cut into thin strips
½ telegraph cucumber, cut into thin strips
½ red pepper
1. Place the dipping sauce ingredients in a jar and shake well to combine. Set aside.
2. Half fill a shallow dish with hot water. Dip the rice paper rolls, one at a time, into the water and place on a damp tea towel. Fill one half of the rice paper sheet with coriander, vermicelli, duck, cucumber, carrot and red pepper strips. Fold in half and roll. Set aside and continue with the remainder.
3. Serve on a platter with the dipping sauce.
Share this: