Dukkah Recipe
Try this exotic recipe for dukkah, which can be used in many ways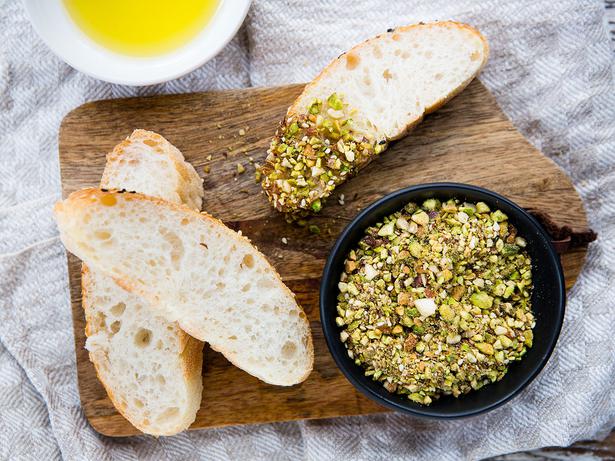 Friday Dec. 16, 2016
I don't think we had anything as exotic as dukkah when we were children, but this is now another staple I pack to take away. It's perfect with fresh bread, dipped in some locally-sourced olive oil. I also use it as a rub over steak or sprinkle over fish for a barbecue. For a quick dressing, stir a tablespoon of dukkah with some lemon juice through yoghurt.
DUKKAH
Makes 2 cups
1 cup pistachios
½ cup whole almonds
2 Tbsp fennel seeds
1 tsp cumin seeds
1 Tbsp ground coriander
¼ cup sesame seeds
¼ tsp salt
1. Preheat an oven to 170C.
2. Place the pistachios and almonds on a baking tray and place into the oven for 10 minutes until toasted. Remove and cool.
3. In a dry frying pan place the fennel and cumin seeds. Heat until they smell fragrant. Add the coriander and toast for 2 minutes. Remove and place into the mortar and pestle and grind finely.
4. Toast the sesame seeds in the pan until lightly browned.
5. Into a food processor place the nuts and pulse until chopped small. Add the salt, sesame seeds and spice mix and whizz.
6. Store in an airtight container.
Share this:
More Food & Drink / Recipes