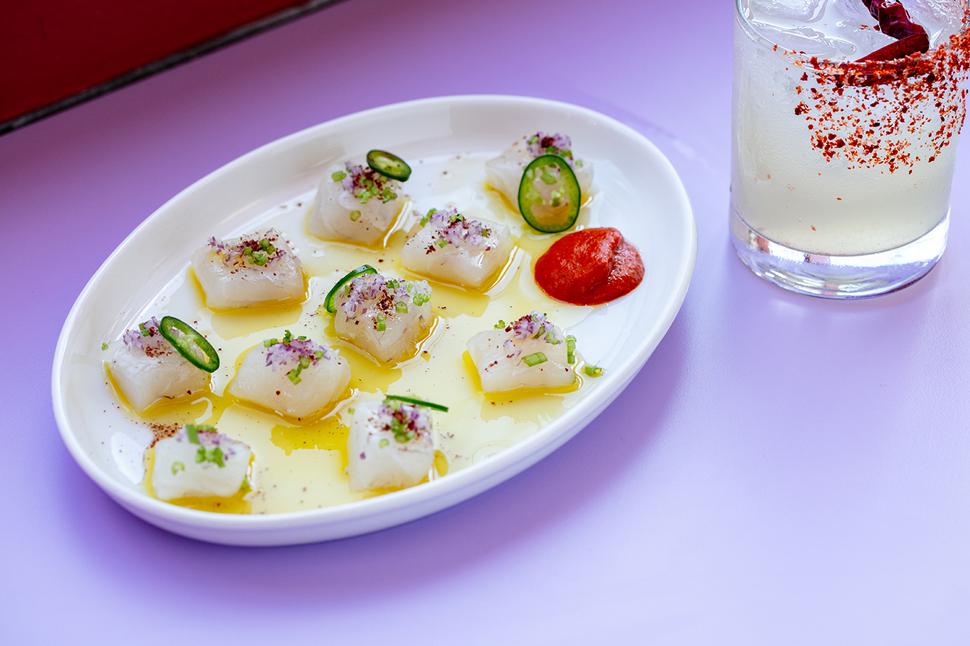 Restaurant Review: East Street Hall Rises Quickly & Exquisitely
Jesse Mulligan finds this Middle Eastern spot near perfect
Thursday Dec. 3, 2020
EAST STREET HALL
Cuisine: Middle Eastern
Address: 5 East St, Newton
Contact: hello@east-street-hall.com
Drinks: Fully licensed
Reservations: Not accepted
On the menu: Pide $12; snapper ceviche $22; whole cauliflower $22; falafel pita (half) $12; lamb pita (half) $12; carrots $12; chopped salad $10; chicken schnitzel $29
Rating: 18/20
Score: 0-7 Steer clear. 8-12 Disappointing, give it a miss. 13-15 Good, give it a go. 16-18 Great, plan a visit. 19-20 Outstanding, don't delay.
We weren't quite ready to order when the waitress arrived at our table and then when she returned I still hadn't decided so I asked for two more minutes. But I'd forgotten the first law of restaurants, which is that if you send a server away twice they will never, ever come back again. So although East Street Hall is, if anything, overstaffed, we soon found ourselves hungry and thirsty and craving human contact.
Eventually I summoned the voice of my inner Karen and said "excuse me" to the manager as she tried to slip by our table and, having got her attention, desperately ordered almost everything on the menu. And let the Karen inside me also observe that the woman taking our order didn't write any of it down, because nobody ever writes orders down any more. As she mis-repeated our requested dishes back to us for the third time I was tempted to say "you know, there is a solution for this" but if the biro revolution is to take place I don't think it will begin at East Street Hall, where the casual vibe is a defining part of the experience. What if they forget to bring your hummus? Well, you'll tell them and they'll fix it. There'll be no loss of life.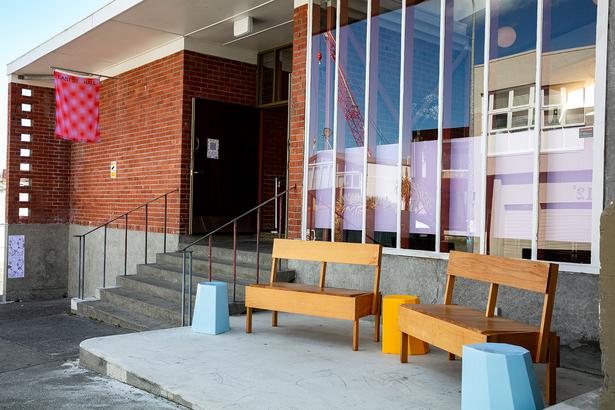 I can't think of another restaurant that is anything like this one, which is set up more like a soccer club room than a swank new eatery. It's a large, light space with a partially open kitchen in one corner, a bar along the side, a bunch of leaners for eating at and the only stylistic element I could see was the colour of the paint which I'm going to (probably mistakenly) describe as "puce". This being (almost) Karangahape Rd of course, the staff and customers are their own interior decor, and you can tell as soon as you walk in that whatever the owners' formula is, they've got the chemistry right.
If you think of kebab shops as Auckland's first generation of Middle Eastern food and places like the wonderful Gemmayze St and Ima as the second, then I think you could comfortably describe East Street as Middle Eastern 3.0, a menu mixing the recognisable with the unfamiliar, and sometimes creating magic with one technique or ingredient rather than a wholesale replication of a recipe. What was Middle Eastern about the raw snapper? Definitely the harissa, maybe the olive oil and I suspect not the fresh chilli. But boy, it was good.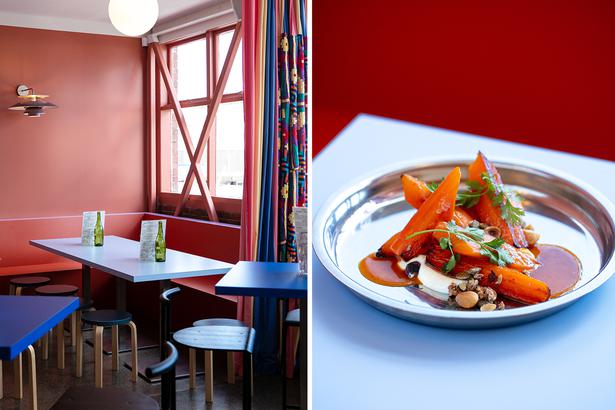 A whole roasted cauliflower is a nice centrepiece, and if you find yourself feeling a bit over it during your 30th or 40th mouthfuls well, the same thing can happen with a big steak. Though this dish is a 2020 cookbook classic I can't think of another Auckland restaurant that offers it and you'll enjoy it here, served with green and white dipping sauces to flavour things up.
Actually, this is a great place to take a vegetarian because the carrots are a very, very good order too — cooked long and slow and served with such intensely flavoured harissa-orange stewing liquid and labneh that, if you've ordered thoughtfully, you'll have just as much fun mopping the leftovers up with torn off pieces of pide. (That bread is bordering on undercooked in the very centre but somehow the near-dough is one of the best parts of the experience.)
And if you choose the meatball pita and this imaginary vegetarian friend chooses the falafel, well, you might get order envy — not that there's anything wrong with the lamb but the falafel is next level and, actually, very meaty.
The pitas look like the most normcore thing on the menu but they're a great order, and though they're indivisible they're not indestructible — I tried to cut one into two pieces but ended up splattering it all over the little metal moulded thingummy the guys in the kitchen stand it up in before sending it out.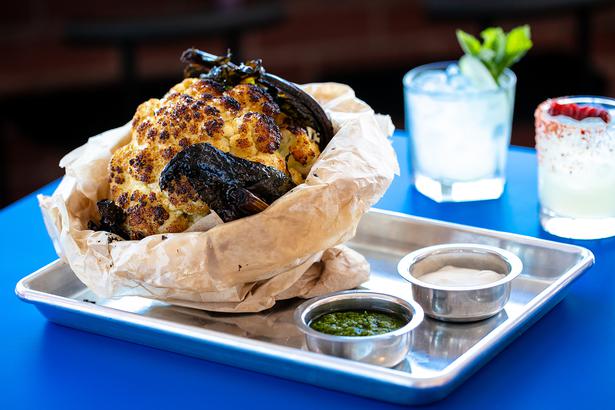 The wine is natural (and wonderful) and, though I'm sure they do requests, the cocktail list nudges you toward either a chilli margarita or a negroni, coincidentally the two drinks I make dozens of each month at home, but there is something special about being brought one by somebody else, while you peruse a beautiful menu with your friends.
What is there to improve? Well, the QR codes could be splashed about a bit more liberally, the cutlery is stacked "heads-up" in a jar on the table so you can't grab a fork without fingering everybody else's tines and there is at least one unisex toilet where the seat doesn't stay up, an egregious plumbing failure which only a boy in a hurry will understand. Everything else is perfect, new and interesting; eat here as soon as you can.
Share this: