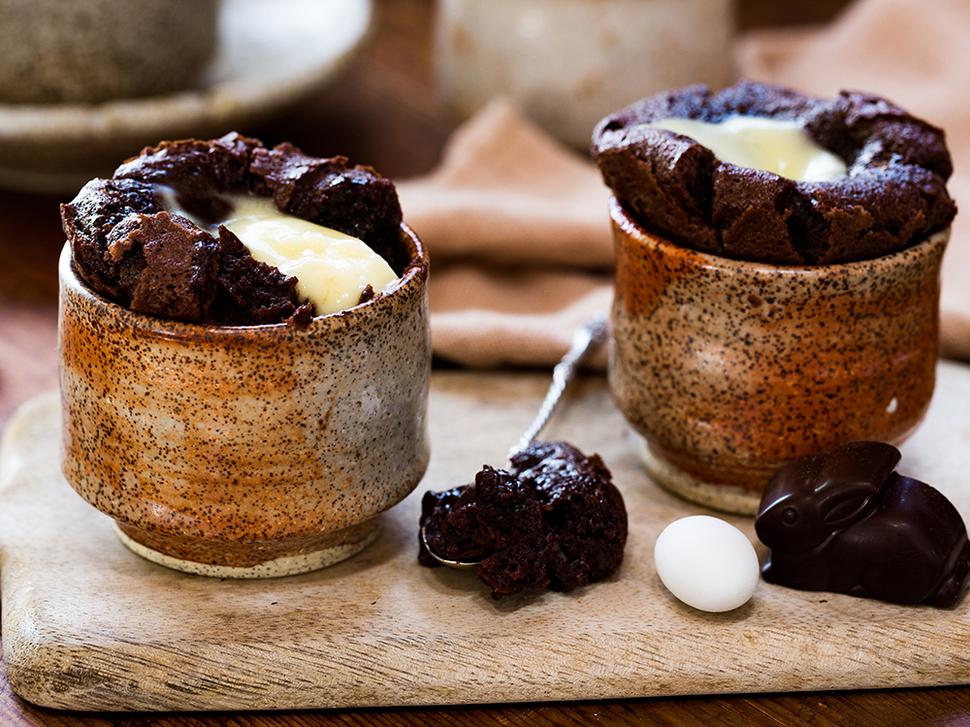 Easter Egg Molten Cups
Reach absolute chocolate heaven with this divine melting dessert
Friday March 30, 2018
For these molten cups, the key is not to overcook. Bake for 15 minutes and then, if the sides have started to set, it is time to remove from the oven. Serve with a generous dollop of mascarpone or ice cream. If you're feeling extra decadent, push a couple of mini caramel eggs into your puddings before placing them in the oven — chocolate heaven.
EASTER EGG MOLTEN CUPS
Makes 4 

200g dark chocolate
100g butter
3 eggs
1 tsp vanilla essence
½ cup light brown sugar
2 Tbsp plain flour
Whipped cream to serve
1. Preheat an oven to 190C. Grease 4 ramekins.

2. Put the chocolate and butter into a heatproof bowl and place over a pot of simmering water. Stir a little and allow it to become completely smooth. Remove from the
heat.

3. In another bowl, combine the eggs, vanilla, sugar and flour. Pour in the chocolate and combine well. Spoon into your ramekins.

4. Bake for 15 minutes until the edges are set.

5. Serve hot with whipped cream.
Share this:
More Food & Drink / Recipes