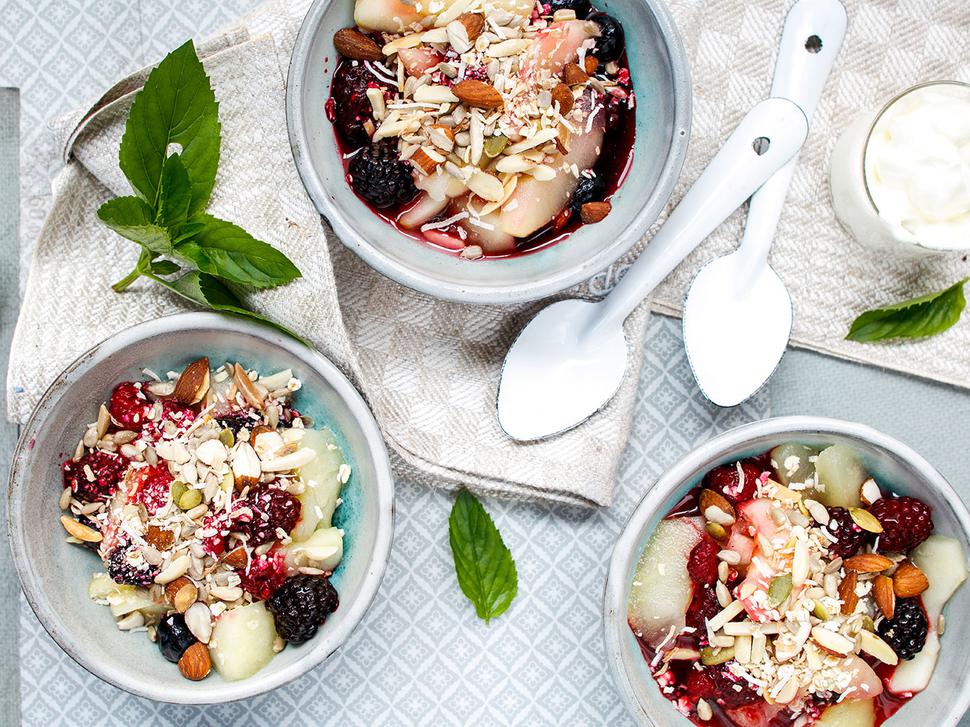 Easy Apple Crumble Recipe with Blackberries
This easy apple crumble recipe is perfect for warmer days and can be put together at the last minute
Thursday Feb. 18, 2016
In mid-winter, custard and ice cream will be joining a hot crumble, steaming from the oven, but this apple and blackberry version is perfect for warmer days and best of all it can be put together at the last minute. I love the earthy flavour of fresh blackberries, but if they are unavailable frozen berries will suffice.

EASY APPLE CRUMBLE RECIPE WITH BLACKBERRIES
Serves 4
• 4 large granny smith apples, peeled cored and sliced
• ½ tsp cinnamon
• ½ cup water
• ½ cup sugar
• 1 cup blackberries fresh or frozen
Crumble
• 1 cup wholegrain oats
• 1 cup shredded coconut
• ½ cup seeds eg sunflower, pumpkin, sesame
• ½ cup nuts eg hazelnuts, almonds macadamia
• Greek yoghurt to serve
1. Preheat an oven to 170C.
2. Place the apples, cinnamon, water and sugar in a pot and bring to a simmer for 10 minutes, allowing the apples to soften but not completely lose their shape. Remove from the heat and add the blackberries. Allow to cool to room temperature.
3. Place the oats, coconut, seeds and nuts on a baking tray. Bake for 20 minutes until lightly toasted. Remove and cool.
4. When ready to serve, spoon some fruit into bowls and top with the crumble.
5. Serve with a dollop of thick Greek yoghurt.
Share this:
More Food & Drink / Recipes