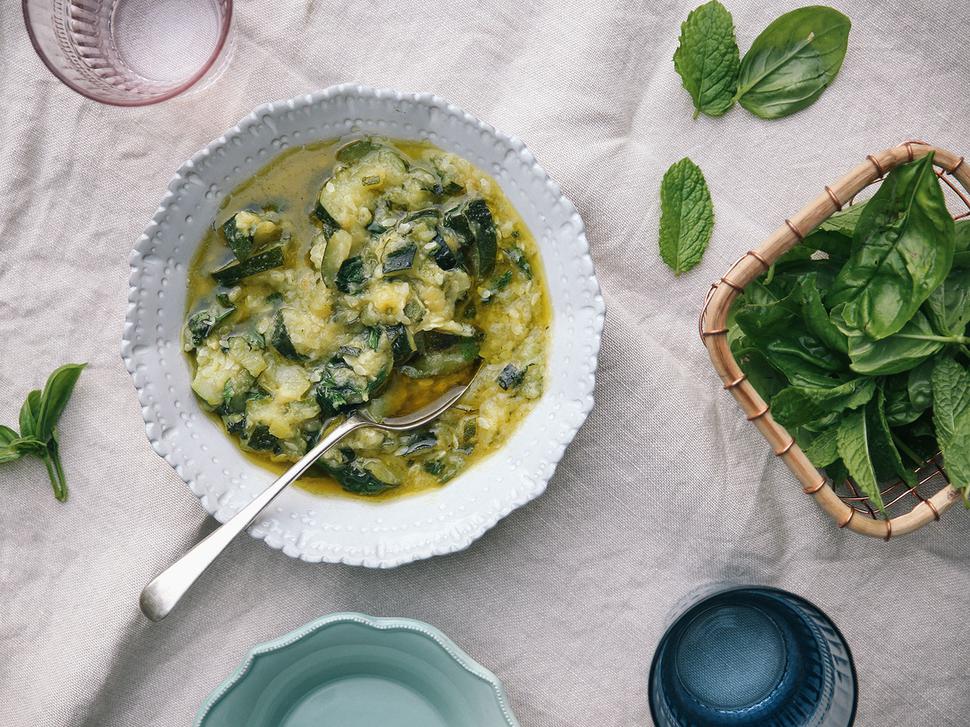 Easy Courgette Recipe
This courgette recipe by Eleanor Ozich is versatile and easy to whip up
Thursday Jan. 28, 2016
There are many hiding amongst the vegetable garden, growing large and heavy in the muggy midsummer sun. The courgette has me feeling a little weary at this time of year, they have been passed around the kitchen table for a few months now. Served in antique bowls, blackened on the grill then tossed in a sharp vinaigrette, or simply cooked in butter and herbs. Another day calls for another recipe using the creamy fleshed vegetable.
For this easy courgette recipe, I braise them gently in their own juices with a smooth and buttery olive oil. This simple technique makes the texture soft, silky and luscious. I dress the courgettes generously in lemon juice, fresh mint and a little sweet basil.

EASY COURGETTE RECIPE
Serves 4 as a side 
• Extra virgin olive oil
• 3 large courgettes, sliced lengthwise and then in to half moons
• a large handful of mint, roughly chopped
• a large handful of basil, roughly chopped
• juice of 1 lemon
1. Add enough olive oil to a heavy bottomed cast-iron pot to cover the bottom of the base entirely. Warm the oil gently over medium heat.
2. Add the courgette and stir to coat in the oil. Cover the pan, then reduce the heat to as low as you can.
3. Cook for 15–20 minutes, or until tender. The courgettes should begin to melt in to each other when stirred.
4. Remove from the heat, add the lemon juice, mint, basil and a generous pinch of sea salt and freshly ground black pepper.
5. Stir until combined.
6. Serve with grilled fish or chicken, tossed in pasta or spooned over buttery mash.
• For more from Eleanor Ozich see petite-kitchen.com
Share this:
More Food & Drink / Recipes