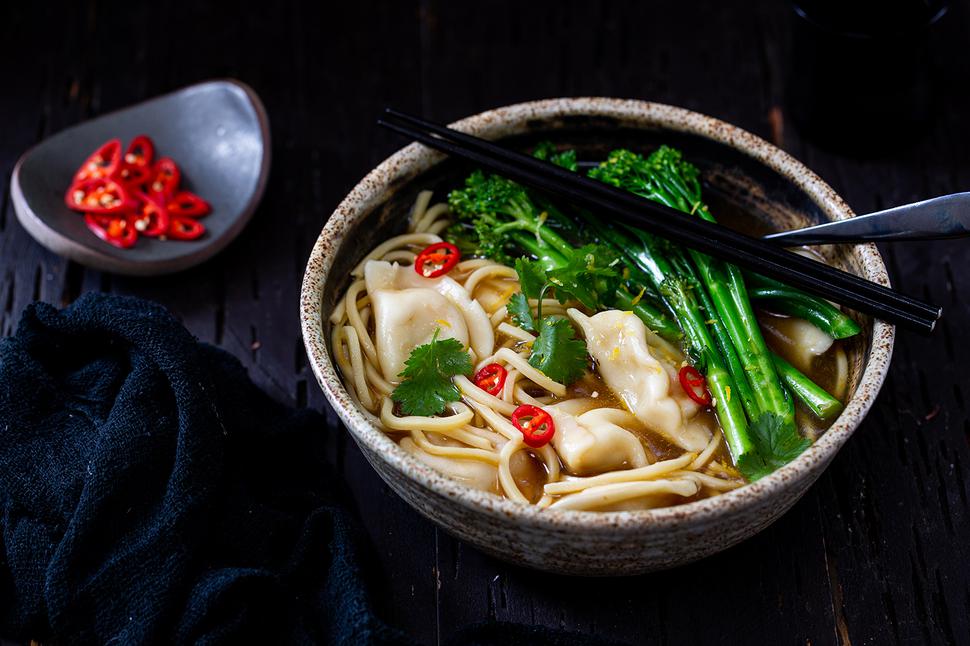 Easy Dumpling & Vegetable Bowls With Noodles
These delicious dumplings in a decadent broth make for a supremely comforting winter meal
Wednesday June 2, 2021
Dumpling wrappers always seem to come in packets of 100. So use what you need then freeze the rest for another occasion. Keep these dumplings simple; the flavours will infuse from the broth, turning this into a memorable, fresh meal.
DUMPLING AND VEGETABLE BOWLS
Serves 4
Dumplings
1 Tbsp olive oil
200g mushrooms, finely chopped
1 clove garlic, crushed
1 cup finely shredded cabbage
1 tsp sesame oil
¼ cup chopped chives
16 dumpling wrappers
Broth
3 cups vegetable stock
1 knob ginger, sliced
1 tsp each soy, sesame oil and
fish sauce
½ onion, roughly chopped
1 red chilli, sliced
300g fresh noodles
1 bunch broccolini
½ cup coriander leaves
1. First, make the dumplings. Heat the oil in a frying pan. Add the mushrooms and garlic, cooking for 10 minutes or until softened. Add the cabbage and cook down. Drain the mixture through a sieve, removing any excess liquid. Place the vegetables, sesame oil and chives into a small bowl and combine well. Place a heaped teaspoon of mixture into the centre of a dumpling wrapper. Rub the edges with a little water and press together. Continue with the remaining wrappers. Set aside.
2. Make the broth in a large pot. Pour in the stock, ginger, soy, sesame oil, fish sauce, onion and chilli, slowly bringing to a simmer for 15 minutes. Add a little extra stock or water if needed. Poach the dumplings in the broth for a few minutes or until they rise to the top. Remove with a slotted spoon and set aside.
3. Add the noodles to the broth and then add the broccolini. When both are cooked through, add the dumplings back to the pot, heating through gently.
4. Serve hot in bowls with a little extra chilli and some coriander leaves.
Share this: