Easy Italian with Gennaro Contaldo
The Italian chef and mentor to Jamie Oliver has released a new cookbook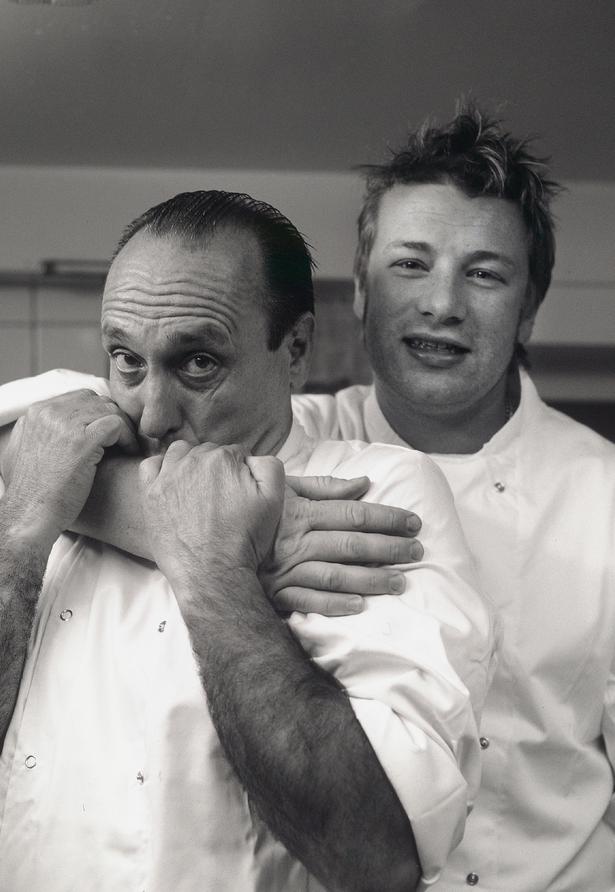 Wednesday Aug. 5, 2015
Italian chef Gennaro Contaldo started his career in the kitchen when he was 10. Not because he had to, but because his father once left him in the care of a local restaurant for the afternoon and he didn't want to leave. He's still boiling, frying and simmering 55 years later. "Yesterday, I was cooking all day. The day before, I was cooking all day. I love it," he says.
Contaldo talks in his part Italian, part British, accent in the same way he cooks: experimentally, with flavour and, most importantly, with unwavering enthusiasm. Especially if you bring up the subject of Jamie Oliver, his successful protege who learned to cook authentic Italian food under his wing.
"He's incredible at cooking but he's also the most generous person I've met in my life," waxes Contaldo. "If he could give his jacket, his trousers and his shoes to someone who needed it, he'd probably do that."
A mutual respect between Oliver and Contaldo has led to a fruitful collaborative career together, their most recent work being on Oliver's YouTube channel Food Tube, which Contaldo regularly contributes to. To accompany his videos, Contaldo has released The Pasta Book, which allows users to master the basics of Italian cooking from quick spaghetti to simple tagliatelle.
Although it's full of recipes he's perfected over the years, Contaldo doesn't want you to just do as he says. "This is my way. If you make it exactly like mine, that's good, but you have to do better. Give me your twist."
Recipe: Classic Spaghetti Carbonara
Do you normally wake up early?
Yes! Roughly around 5am, it's the chef life.
What do you eat for breakfast?
It's easy because it's the season for fresh fruit, and I love fruit in the morning. I just have a little bit of bread, because this is an Italian breakfast, and some nice fruit. Peaches, cherries, melon, apricots — no grapes yet. We've got to wait. And then we've got a lovely nice crusty bread, it's just fantastic. And, I'm sorry, I have to have a lovely coffee.
Where do you live?
I live in east London in a place called Walthamstow, which is 20 minutes from Piccadilly by train, and I've lived there for the last 15 years.
How do you like living in London, compared with Italy?
I adore London, it's just so exciting and beautiful. But I was born in Italy, on the Amalfi Coast, 50m from the sea, where the sea was my swimming pool, the village was my playground. So I love both.
Why do you like cooking?
Cooking is an incredibly hard job. Long hours, anti-social hours, very hot. When you have a passion for cooking, you will be a cook for the rest of your life and you will do well. I love it, I enjoy it, and also I like to make people very happy.
Who taught you to cook?
I took lots from my father, my mother, my grandfather, but also I learned to cook in many different kitchens around Italy. It's always learning, learning, learning, because every single country in the world produces the best. They are very proud with the work they have. There are such excellent chefs all around the world — it's incredible. You always learn something from them, and they learn from you as well. It's incredible the way the world goes around.
What's the first dish you perfected?
I don't remember any dish I've perfected. Chefs don't think this way — they just cook and think, 'this is good'. It's not something you perfect, because everything everyone is doing, is done all over again. And it's been done before in different ways. The taste of tomato is there, the taste of garlic is there, the taste of basil is there, so what have we actually done? We don't do anything, but marriage with perfect ingredients. Yes, that will make the difference.
You once said Jamie Oliver should be hailed as a saint, why is that?
He's a giver. 'Here, this is what I have, this is what I made, it's not good just for me. Let's share it'. And he'll share it for everyone. And not just people near him, people he doesn't even know. I think he's incredible in different situations, he wants to help people. And look what he's doing? Look what he's doing for the children. Even an old dog like me has to learn from him. He's trying to make people understand that we need to eat well. But also we can't forget the third world, who can't catch anything, they don't have access to anything, think about those people as well. And it's so important, and Jamie does that. He cares for people, a saint cares for people, and Jamie does that.
If you had to choose another favourite style of cooking, other than Italian, what would it be?
Because I lived in England for so many years, and the best time for England to cook was between 1940-60 English cuisine. Lovely Yorkshire pudding, lovely shepherd's pie. But I like everything.
What would your last meal be?
I would like to have all my friends and family around me, I would spread a nice table, and put everything on the table. And for me, I'd have a little pasta. A little spaghetti. With a little bit of garlic, chilli, I love it. And greasy, ripe, nice tomato.
Share this: