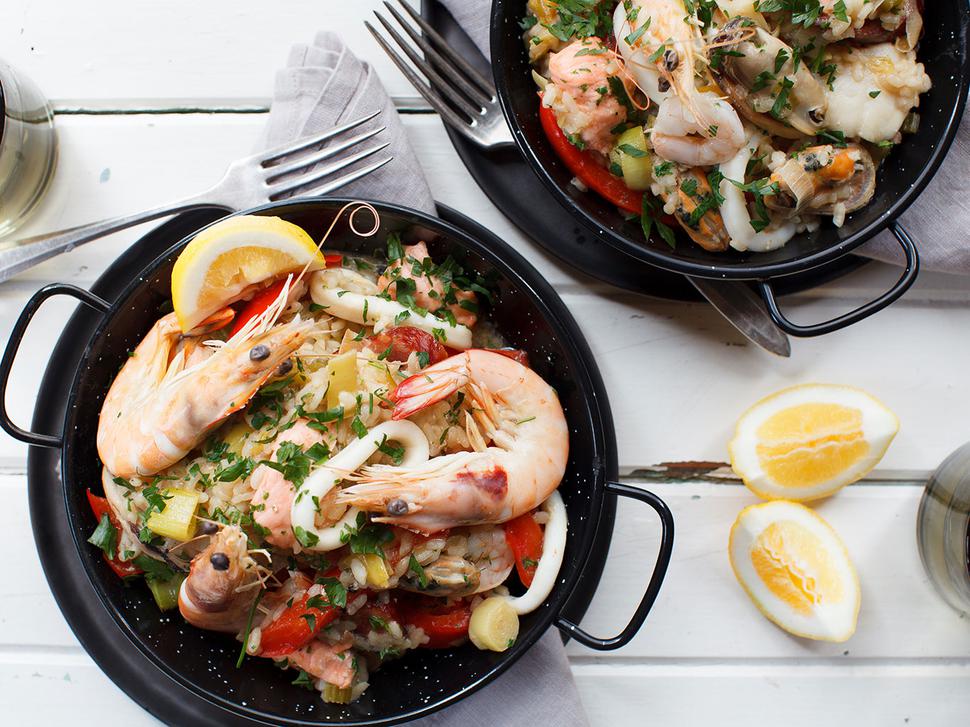 Easy Paella Recipe
Serve for a scrumptious meal in no time at all
Thursday Nov. 12, 2015
In Spain they secretly guard their favourite recipes. Here we have licence to create our own version of paella with our favourite ingredients. Don't be daunted by the large ones you often see at a fair or market that feed hundreds. They don't have to be that size. With fresh seafood and good quality stock, your paella can be served for a scrumptious Sunday lunch in no time at all.

EASY PAELLA RECIPE
Serves 4
• 2 Tbsp olive oil
• 1 onion, chopped
• 2 cloves garlic, sliced
• 1 chorizo sausage, sliced
• ½ tsp smoked paprika
• 2 cups Arborio rice
• 6 cups chicken stock
• 3 cups mixed seafood
• 8 large prawns
• Zest and juice of 1 lemon
• ½ cup chopped parsley
• Lemon wedges to serve
1. Heat oil in a heavy based pan or paella dish. Add onion, garlic and chorizo. Saute until the onion is soft and chorizo browned. Add the paprika and rice. Stir through half the stock. Cover and leave for 15 minutes.
2. Remove the cover, add the remaining stock, seafood and lemon zest and juice. Continue to cook for 10 minutes until the rice and seafood is cooked through.
3. Remove the pan from the heat, add the parsley, decorate with lemon wedges and serve.
Share this:
More Food & Drink / Recipes