Easy-to-Make Energy Bars That Are Actually Good For You
Try these recipes for simple and healthy energy bars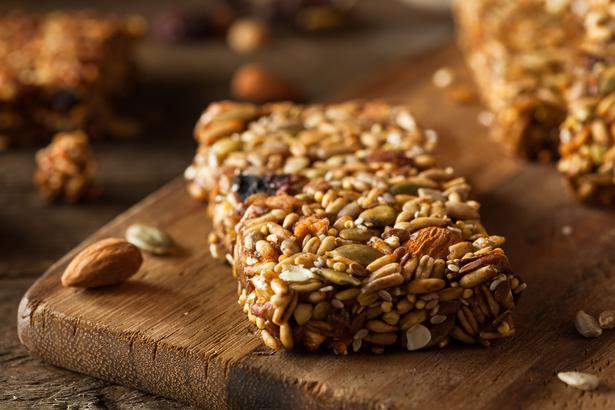 Sunday Nov. 6, 2016
Energy bars, power bars, protein bars, granola bars. Whatever you call them, they've taken over entire aisles in supermarkets. When it comes to nutrition, some of them are little better for you than a store-bought biscuit. That's changing, as more brands realise that plenty of consumers interested in grab-and-go snacking also want something more stripped-down
Their ubiquity might make you forget one salient fact: It's so easy to make these things at home, where you can control the ingredients, mix and match to your liking and store them for a week, ready for whenever you have a hankering.
Just about every whole-foods-oriented cookbook I've seen in the past year or so has included a bar, so I've been trying recipes and returning to the best ones. In the process, I've settled on three standbys, each of which occupies a niche and satisfies a particular craving or need.
My favourite bars are variations on a common theme: grains, nuts and/or fruit bound together with something sticky, with minimal (if any) added sweetener. The most stripped-down of the ones I've loved are Susanna Booth's Peanut Snack Bars in her book, Sensationally Sugar Free (Hamlyn, 2016), which live up to the promise of the book's title. They're barely more than figs, nuts and seeds, with a little peanut butter and a little flour, and they come together as easily as a food-processor pie dough, albeit one that you cut into bars — and don't bake. If this is what the raw-food movement is all about, I need to leave my oven off more often.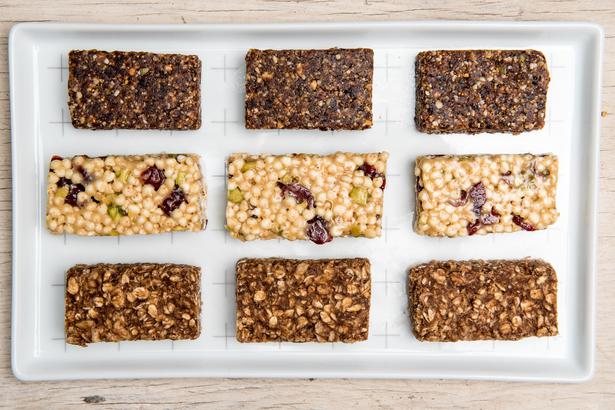 The Chewy Cranberry, Millet and Pistachio Bars in Emma Galloway's delightful My Darling Lemon Thyme (Roost Books, 2015) don't see the heat of an oven, either. But you do quickly boil the liquid ingredients — brown rice syrup or honey, coconut oil and tahini — before pouring the combination over a bowl full of puffed millet, dried cranberries and pistachios. Puffed millet was a revelation: a health-food-store staple that turns a whole grain from something hearty into something light and crispy. Between the millet and the tahini, that Middle Eastern paste made from ground sesame seeds, these bars taste like an adult's version of Rice Krispies treats.
Ella Woodward's Banana Breakfast Bars are a little cakier, and prepared more conventionally: You mash up ripe bananas and mix them with oats, almond milk, a little cashew butter, honey and seasoning, then bake them briefly. They're like a cross between a muffin and a granola bar, just the type of thing that you'd grab for a quick morning snack. Spread with more nut butter and some jam, eat with yoghurt and fruit, and you're on your way to a meal. You'd probably want to sit down for this one, but it'll be worth it. Even a power-bar-maker deserves to power down now and again.
BANANA BREAKFAST BARS
10 bars
These somewhat-cakey, somewhat-chewy bars have a subtle banana flavour that makes them perfect for a grab-and-go breakfast. They can be refrigerated in an airtight container for up to five days.
Nutrition per bar: 130 calories, 3g protein, 21g carbohydrates, 5g fat, 2g saturated fat, 0mg cholesterol, 55mg sodium, 3g dietary fibre, 4g sugar
Ingredients
Coconut oil, for the baking dish (may substitute cooking oil spray)
2 large or 3 small very ripe bananas, sliced (about 1 cup)
2½ cups old-fashioned rolled oats
½ cup unsweetened almond milk
2 Tbsp cashew butter
1 Tbsp ground cinnamon
1 Tbsp honey
1 tsp vanilla extract
½ tsp kosher salt
Steps
1. Preheat the oven to 180C. Generously grease a 9x6 inch baking dish with the oil.
2. Use a fork to mash the bananas in a mixing bowl until smooth. Stir in the rolled oats, almond milk, cashew butter, cinnamon, honey, vanilla extract and salt until well incorporated.
3. Spoon the mixture into the baking dish, flattening and smoothing the surface. Bake for 12 to 14 minutes or until evenly firm to the touch.
4. Cool in the baking dish completely before cutting into 10 bars of equal size.

• Adapted from Deliciously Ella Every Day by Ella Woodward (Scribner, 2016)
CHEWY CRANBERRY, MILLET AND PISTACHIO BARS
14 bars
These energy bars taste like Rice Krispies Treats for adults. They're chewy, sticky, salty, nutty and only slightly sweet, and they use whole grains. Look for puffed millet in health-food stores or in the gluten-free aisle of supermarkets. They can be refrigerated in an airtight container for up to a week.
Nutrition per bar (using brown rice syrup): 150 calories, 3g protein, 18g carbohydrates, 8g fat, 4g saturated fat, 0mg cholesterol, 75mg sodium, 1g dietary fibre, 10g sugar

Ingredients
2½ cups puffed millet (may substitute puffed rice)
½ cup dried cranberries
¼ cup shelled raw, unsalted pistachios, chopped
½ cup brown rice syrup or 1/3 cup honey
½ cup tahini
3 Tbsp coconut oil
¾ tsp kosher salt
1 tsp vanilla extract
Steps
1. Grease a 7x11 inch baking pan with cooking oil spray, then line it with parchment paper.

2. Combine the millet, cranberries and pistachios in a heatproof mixing bowl, stirring to incorporate.
3. Combine the brown rice syrup or honey, the tahini, coconut oil and salt in a small saucepan over medium heat; once the mixture starts to bubble around the edges, start stirring to prevent sticking. Cook for 45 seconds, then remove from the heat.
4. Quickly stir in the vanilla extract, then pour the syrup mixture over the millet mixture.
5. Mix well and then transfer to the pan, pressing down evenly with the back of an oiled spoon to compact the mixture. Let cool, then cover and refrigerate for 1 to 2 hours or until set before using a lightly oiled knife to cut the slab into 14 equal bars.
• Adapted from My Darling Lemon Thyme by Emma Galloway (Roost Books, 2015)
PEANUT SNACK BARS
12 bars
These are trail mix in a bar: little more than nuts, seeds and dried fruit bound together with a little flour. They can be refrigerated in an airtight container for up to a week.
Nutrition per bar: 180 calories, 5g protein, 16g carbohydrates, 11g fat, 2g saturated fat, 0mg cholesterol, 80mg sodium, 3g dietary fibre, 8g sugar
Ingredients
I cup soft dried figs 
½ cup unsweetened crunchy peanut butter
¼ cup hulled, toasted or roasted, unsalted sunflower seeds
1/3 cup hulled, raw, unsalted pumpkin seeds
1/3 cup whole-wheat flour
½ tsp kosher salt
2 Tbsp sunflower oil
2 tsp water
Steps
1. Discard the tough stem at the top of each dried fig. Place the fruit in a food processor along with the peanut butter, sunflower seeds, pumpkin seeds, flour, salt, sunflower oil and water; pulse long enough to create a mixture that has the texture of fine crumbs, which should hold together when firmly pressed.
2. Press or roll the mixture on a counter, between layers of parchment paper, to a thickness of about ½ inch: A rectangle about 7x6 inches is perfect. If there are cracks, press the dough more firmly. Cut into 12 equal slices.
• Adapted from Sensationally Sugar Free by Susanna Booth (Hamlyn, 2016)
— Washington Post
Share this: