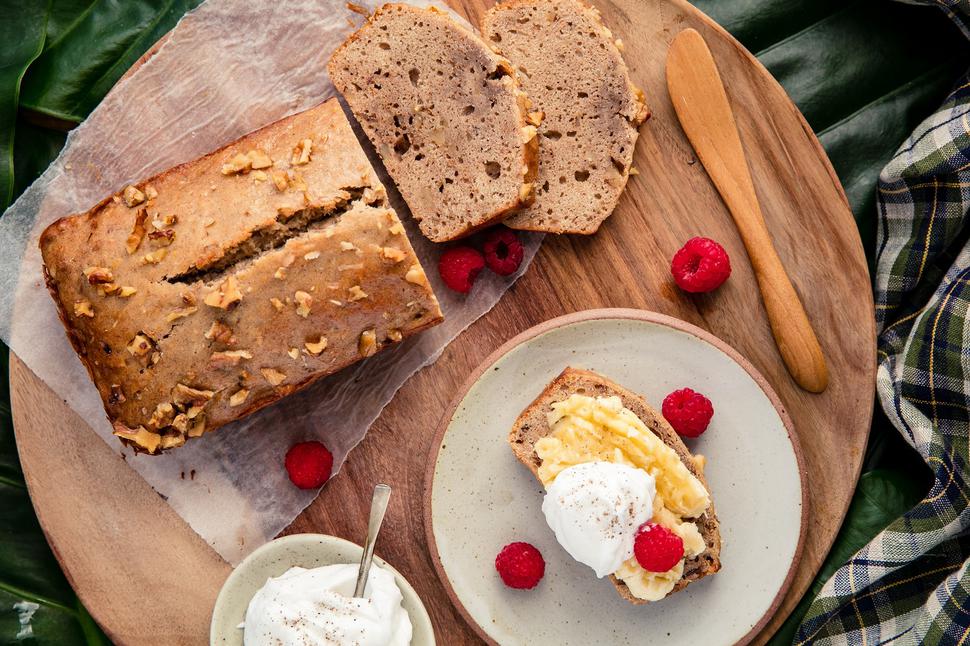 Easy Vegan Banana Bread
This delicious vegan-friendly banana bread is the perfect indulgence any time of the day
Friday July 5, 2019
The more ripe the bananas the better for this loaf. Eat fresh from the oven while it is still warm, or if you leave it a day or two try toasting it. Choose your favourite topping; a good dollop of coconut yoghurt and fresh banana is just perfect.
VEGAN BANANA BREAD RECIPE
Serves 8
3 ripe bananas
¼ cup coconut oil
100g brown sugar
220g self-rising flour
1 tsp baking powder
1 tsp cinnamon
½ tsp ginger
½ cup chopped walnuts plus 1 Tbsp
To serve
Smashed banana
Coconut yoghurt
Berries
1. Preheat oven to 170C. Line a loaf tin with baking paper.
2. Into a kitchen processor place the bananas, oil and sugar and blitz until smooth.
3. Into a bowl place the flour, baking powder, cinnamon, ginger and the half cup of nuts, combining well.
4. Pour the wet mixture into the dry one and stir well. Pour into a loaf tin and sprinkle with remaining nuts. Bake for 35 minutes until a skewer comes out just clean.
5. Cool, slice and serve with your favourite toppings.
Share this:
More Food & Drink / Recipes